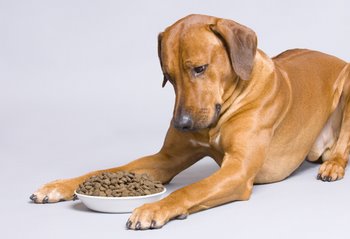 According to the FDA's website, The Association of American Feed Control Officials (AAFCO) has established rules and regulations that must be followed for animal feed.
They have strict guidelines that pet food manufacturers must follow, requiring that all labels on dog food ingredients follow one of the four product naming rules. Use these guideline when choosing a healthy dog food for your pet:
•The 95% Rule. This rule applies when the "meat" ingredient is listed first in the food's name. Some examples may include Beef Dog Food, Lamb and Rice, Duck and Potato, etc. The rule states that the product must contain at least 95% of the named meat ingredient on the label, excluding preservatives or water. For example, if the product was named "Duck and Potato", the product would have to consist of at least 95% duck. This rule mainly applies to wet dog food.
•The 25% or "Dinner" Rule. This rule applies when a descriptive phrase follows the "meat" ingredient. Examples of this include: Lamb Dinner, Beef and Turkey Entree, or Salmon Formula. The product must contain at least 25% of the named meat ingredient but no more than 95% of the ingredient.
•The 3% or "With" Rule. This rule states that any food label that contains "with" in the description must contain no less than 3% of the meat ingredient listed. Common examples include Made with Chicken and Dog Food with Beef.
•The "Flavor" Rule. If the label has the word "flavor" in the same font size and color as the ingredient name, the manufacturer is not required to put a certain amount of the ingredient in the food. In fact, the ingredient can be any form of the meat listed, which can include the actual meat, any by product of the meat, or the broth of the meat.
The key to maintaining the health of your pet, is choosing healthy dog food. Look closely look at the labels and compare brands of food. Not all dog food is created equal.