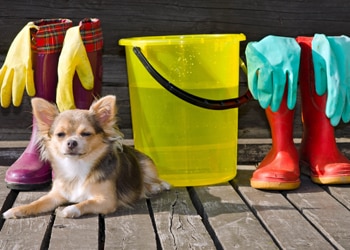 By Pets Best, a nationwide pet health insurance agency for dogs and cats founded in 2005.
Although tidying-up during springtime can be good for our human health and psyche, it has the potential to be detrimental to our pet's health.
The arrival of warm weather rouses the urge to spruce-up homes and yards—but many pet owners don't realize how hazardous some household cleaners and chemicals can be for dogs and cats.
According to Dr. Eva Evans, a veterinary advisor for Pets Best, certain cleansers are likely to cause skin irritation and even burns in both animals and humans alike.
1. Rust & Calcium Removers
Cleaners such as rust removers, toilet bowl cleaners, and calcium removers all have the potential to cause corrosive injury and can result in both dog and cat health problems.
2. Varnish & Turpentine
Wood varnish, turpentine, and paint thinner can all be dangerous if pets are exposed to them.
3. Acidic and Alkaline Cleaners
Strong acidic and alkaline cleaners in particular should be well-guarded. Even milder cleaners can cause problems like diarrhea and vomiting in pets.
Though some springtime cleaners only cause slight irritation in pets, others can be lethal to pet health. To keep pets safe, keep everything out of reach. Dr. Evans reminds pet parents to clean up all rags, sponges, paint brushes, and other tools used. As well as ensure all cleaners and chemicals are stored safely and securely after use.
Dr. Pete Wedderburn, columnist for the Daily Telegraph, suggests pet insurance as a helpful way to budget for springtime accidents that could occur.
"It does allow you to make the best decisions about your pet's care without worrying about the financial implications if serious accidents or illnesses do happen to come your way," he wrote on his blog about health insurance for pets.
Wedderburn added that it's important to do lots of research when opting for a pet insurance policy.
"It's worth taking time to go over your selected policy in detail before handing over your credit card," he wrote, adding that pet insurance policies that look cheap will likely provide less coverage and benefits.
Our Best Content, Delivered Monthly