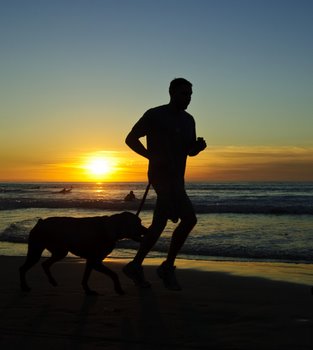 By: Dr. Fiona Caldwell
Idaho Veterinary Hospital
For Pets Best Insurance
The sun is out and your sunscreen is on (don't forget sunscreen for Fido too– Melanoma is a pet health issue pets have to be wary of too!) Summer is the perfect time to squeeze in some adventure and relaxation.
Here are ten ideas for summertime pet-friendly activities that are guaranteed to please both you and your four-legged best friend.
1. Buy a kiddie pool and invite friends over for a pooch pool party and barbecue for the humans.
2. Find a restaurant with a dog friendly patio and bring a book and order a summer drink. You'll be amazed at all the people who will stop to say hello and pet Fluffy; it's a great way to meet people!

Or Call 877-738-7237 to speak with a Pets Best Insurance Agent to Add a Pet to Your Current Policy
3. Organize a trial hike appropriate for your dog's fitness level and breed. Be cautious not to go in the heat of the day, and be sure to bring a doggie water receptacle for breaks. Check out www.furrytravelers.com for products.
4. Take your dog camping with you, bonus points for letting them sleep in the tent!
5. Go to a lake or other safe body of water for an afternoon of swimming. Many breeds other than retrievers love the water, see if your dog is one of them! Consider a canine lifejacket for the if you're boating with your dog.
6. Look into local canine dog shows, contests, or field trials that you and your best friend could enter. You might train with a frisbee or for agility, or even just regular obedience training. This is a great way to bond with your pet and teach them some impressive new tricks.
7. If you have a mild mannered and gentle dog, look into local hospitals or nursing homes to see if there is a need for a therapy dog. A visit from a friendly furry pet is sure to bring a smile to less fortunate or ill people.
8. For small dogs, a bike pull trailer meant for children can be easily converted to accommodate dogs, allowing you to take the littlest members along for leisurely summer bike rides. Be sure your pets is safely harnessed in so that he or she can't leap out and always avoid roadways with dogs.
9. Check out the local dog park. Most cities have some designated parks where dogs are allowed to roam off leash. Always ensure your pet is up-to-date on vaccinations when frequenting high dog-trafficked areas.
10. Take a scenic car ride with the windows (partially) down. If your dog loves to stick her head out the window, consider getting her "doggles," which are canine goggles designed to protect eyes and shield from the sun as well. Look into www.doggles.com for more product information.
It has been proven that people who include their dogs in their everyday lives tend to forge better bonds and longer lasting friendships with them. Dogs that are exposed to a variety of situations tend to have less anxiety and can be less timid. By getting outdoors and including your furry 'children' in family outings this summer you'll be sure to make lasting memories while also helping your dog to be the best companion possible.