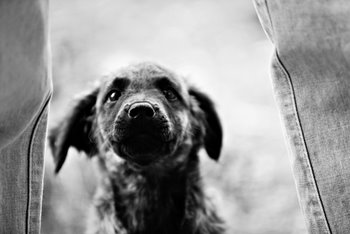 Dog owners generally purchase pet insurance because they know dogs will likely go through various bouts of illness and upset tummies throughout their lives.
But for puppies, such an incident can be very serious– as it often means the dog has Canine Parvovirus, otherwise known as Parvo. Parvo is a very dangerous pet health disease for puppies and elderly dogs that can turn deadly quickly.
Parvo virus infects the intestine and destroys the lining, causing severe bloody diarrhea and vomiting. What's worse, the virus can live on surfaces for months and can spread very easily on clothing and shoes, infecting puppies that have had no contact with other dogs at all.
Treatment means hospitalization for at least three nights, and anyone whose pet has stayed overnight at the vet knows this is very costly without dog insurance.
According to Dr. Michael Dill, a veterinarian at Bienville Animal Medical Center in Ocean Springs, Mississippi, treatment for Parvo can even require ten days of non-stop hospitalization, which, without pet health insurance, could cost a pet owner hundreds or even thousands of dollars. But, "with appropriate treatment, parvo infected dogs have about 85 to 90 percent survival rates," the veterinarian wrote in an article for the Biloxi-Gulfport Sun Herald.
Fortunately, routine puppy vaccinations, which can be covered with dog insurance plans include vaccinations for Parvo. These shots require multiple booster shots and return vet visits, so puppy owners should compare pet insurance to find a policy that will cover this routine.
The extra preparation is well worth it for your puppy's health and your bank account. According to Dr. Dill, "At my clinic, a full set of puppy visits (four visits including examination, vaccines and fecal examination) is less costly than a single day of parvo treatment."