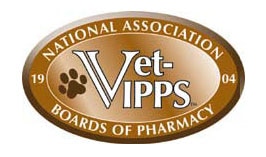 As the economy recovers, many people are still struggling to provide for both their human family members and their furry family members. Pet insurance can help cover costs associated with pet health needs, but some want to save even more by buying prescription pet medications online.
Indeed, a lot of pet pharmacies have been popping up online in recent years. These pharmacies provide a way to save money, but they can also contain hidden dangers that may put your pet's life at risk. It's important to become educated before choosing an online pet pharmacy. At first glance, online pet pharmacies seem like a good option, offering better pricing and home delivery. But as they say, buyer beware.
Some websites selling pet drugs represent legitimate, reputable pharmacies. Others, however, are fronts for businesses breaking federal, state, and even international laws.
Illegal online pharmacies may sell medicines that are:
– Counterfeit, outdated or mislabeled
– Incorrectly formulated
– Improperly made or stored
– Sold without a required doctor's prescription
Other potential issues with online medicines include:
– Not containing the actual drug, or the correct dosage
– Containing contaminates
– Reduced efficacy due to storage conditions that are too hot, cold or humid
– Missing proper usage instructions
– Little to no recourse if you're unhappy with your purchase or your pet is harmed by the drugs
If you're still interested in buying pet prescription medications online, here how to go about it in the safest manner:
1. Compare Prices
If you have a specific online pharmacy in mind, as ask your veterinarian if he or she has any experience with it. Then, compare prices. You may be surprised to learn there's little to no price difference between your vet's office and the online site, especially when you consider shipping costs. And many veterinary hospitals now offer their own stores on their websites where you can order your pet's medication at a competitive price, get home delivery, and the peace of mind knowing the source is reputable.
2. Scour the Website
Avoid any site that is willing to sell you a prescription-only pet medication without requiring a prescription from a licensed veterinarian. This is illegal, and there's a risk of the drugs not being FDA-approved. In order to prescribe and dispense medication to your pet, most states require that there is a valid veterinarian-client-pet relationship (VCPR). This is usually defined as a veterinarian having examined your pet within the last 12 months. If the VCPR does not exist, medication cannot be dispensed.
Look carefully at all the information available on the website. If it isn't based in the United Sates, it's best to avoid the company. Many overseas sites sell counterfeit and expired drugs. If you can't find physical contact information for the site, like a phone number or address, that's another red flag. If the prices offered on a site are dramatically lower than the competition, the drug is more likely of dubious quality or origin. If you place and order and the site ships you medicines that you didn't order or that look very different from what your pet normally takes, don't give them to your pet and contact the site immediately. And finally, keep yourself safe from identity theft. Make sure the site you use offers a secure checkout experience.
3. Check for Accreditation
Always check for site accreditation. You can find out if it's properly licensed in the state where it's based by contacting the state's Board of Pharmacy. Order from a website that belongs to a Vet-VIPPS (Veterinary-Verified Internet Pharmacy Practice Sites) accredited pharmacy. This is a voluntary accreditation program of the National Association of Boards of Pharmacy (NABP). NABP gives the seal to online pharmacies that dispense prescription animal drugs and comply with NABP's strict criteria. Look for the Vet-VIPPS seal displayed on a pharmacy's website (like the one shown here) or check with NABP.
Finally, if your pet has a problem with a medicine purchased online, like a reaction to a medicine or the medicine not working, seek veterinary help immediately. Then contact the medicine's manufacturer and report problems directly to the FDA's Center for Veterinary Medicine. You can also report suspicious online pet pharmacy sites to the FDA and the NABP.
Pets Best Insurance plans include prescription medication coverage. See a complete list of covered medications in our Customer Center.