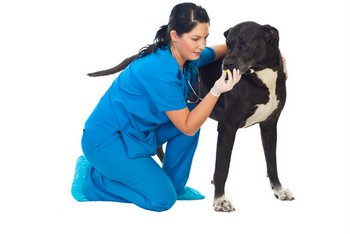 By: Ashley Porter
For Pets Best Insurance
The week of October 9-15, 2011 is National Veterinary Technician Week (NVTW), and this year pet insurance companies, pet related industries and vet hospitals will be celebrating the work of veterinary technicians everywhere. This year's theme is "Pets and Vets Need Techs."
NVTW was started 1993 by the National Association of Veterinary Technicians in America (NAVTA) with a focus on celebratory activities. The goals of such activities are to:
– Educate the public about the work of veterinary technicians
– Emphasize the value of veterinary technicians
– Provide an opportunity for encouragement and team building among veterinary professionals
– Recognize the quality of relationships between veterinary technicians, veterinarians, and other veterinary professionals
This week is a great time to raise money for local animal charities, increase staff knowledge about issues in the field, and raise public awareness about veterinary technicians and veterinary services in general. Claims adjusters at Pets Best Insurance are all former vet techs. And to celebrate this week, Pets Best Insurance employees will be attending a special vet tech dinner.
You will want to publicize NVTW events a few weeks ahead of time at your clinic, pet supply stores, dog parks, and even the local newspaper. You could also ask for sponsorship funding for events from local veterinary suppliers, pharmaceutical companies, pet food companies, pet supply stores, and the state VMA.
Here are some ideas provided by NAVTA for both fundraising and awareness/education.
Fundraising Activities:
– Pet Parade – Pet owners and the veterinary staff can have community walk to raise funds for an animal charity.
– Dog Wash – Owners can bring their dogs to be shampooed and rinsed for a donation.
– Doggie Kissing Booth – Charge a small fee to smooch a pooch!
– Gift Baskets – Sell or raffle off gift baskets with products for different types of pets.
– Pet Fashion Show – Owners and pet can dress up in matching outfits or costumes and veterinary technicians can show off the latest in veterinary apparel.
– Animal Movie Night – Marley and Me, Paulie, and Babe are just a few of the many animal movies available to show. You could also serve snacks for the animals and pet-themed snacks, like puppy chow or goldfish, for their owners.
– Make a Community Pet Calendar –Have owners and veterinary staff send in pictures of their pets and pick the 12 best for a 2012 pet calendar.
– Have a Pet Look-a-like Contest – Have owners and veterinary staff send picture of themselves and their pets and post them in the waiting room to have clients vote for the winner.
Awareness/Education Activities
– Visit local schools and talk about being a veterinary technician.
– Offer to speak to humane societies.
– Have seminars on "How to Take Your Pet to the Vet" at local schools and community centers. Bring a friendly pet and offer advice on how to put the animal in a carrying crate, get it in the car, and take it to the office.
– Conduct seminars for veterinary clients to provide information about pet health and general pet issues.
– Hold an open house at the veterinary clinic with demonstrations of equipment and procedures.
– Have a seminar with other veterinary clinics in the area.
– Invite a knowledgeable speaker to come to your clinic and talk about advances in veterinary medicine
For more information and ideas, check out the National Veterinary Technician Week page on the NAVTA website at www.navta.net.
Ashley Porter is a pet lover and pet insurance enthusiast who writes about various topics including pet health issues and is the owner of the site Veterinarian Technician.