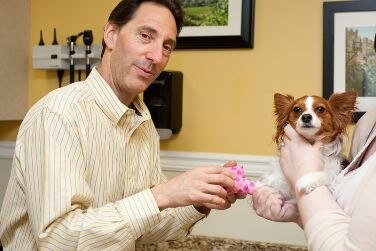 Five years ago, Pets Best developed the My Vet's the Best Contest to acknowledge notable veterinarians around the nation. November concludes our final contest of 2015, and we're again moved by the thousands of pet owners who shared heartfelt stories in nominating their vets for outstanding service and compassionate care. As we announce our eight finalists, it is clear that many selfless veterinarians around the nation are making a tremendous impact upon the pets and pet owners in their local communities. Meet Dr. Paul Sedlacek who is one such veterinarian and a finalist in the third round of this year's contest.
After graduating from Michigan State University's College of Veterinary Medicine in 1984, Dr. Sedlacek started working for Benson Animal Hospitals of Lansing, Michigan, where he was quickly promoted. In 1987, he returned to New Jersey where he began practicing at the Animal Clinic of Morris Plains—the same clinic where he had been employed as a kennel worker and technician prior to vet school.
In 1988, just one year after his return to ACMP, he became the new owner of the clinic. Today, as ACMP's head veterinarian and owner, he pursues his strong interests in avian and exotic animal medicine and surgery, as well as small animal internal medicine and surgery. He has provided service for numerous breeders, kennels, aviaries, and mini zoos. He is affiliated with the American Veterinary Medical Association, Association of Avian Veterinarians, and the Association of Exotic Mammal Veterinarians (among others).
Dr. Sedlacek and his wife Christine have five children and two grandchildren, as well as several pets. Their animals include two dogs: a Bichon named Jacques Barac, an affectionate and very intelligent standard poodle named Baranek, four cats (two of which are named after medical missions where Christine has visited), and many fish. In his free time, Dr. Sedlacek does his best to stay active. He enjoys playing tennis and basketball, hiking, and traveling with his family.
What do you enjoy most about being a veterinarian?
People get a lot of emotional support from their pets. When their pets are ill or injured they are often upset. When I help the pet, I help the people feel better. Helping the people is the most enjoyable part of the job for me.
What makes you unique in your field?
I think a few things make us unique in our field. I have a very large exotic animal clientele. People often travel significant distances to have us treat their birds, reptiles, pocket pets and other exotics. I also do work for some mini zoos so I get to treat some more unusual patients. We provide 24-hour emergency service which is becoming much less common for a general practice. My patients do not have to see a new face when they are having a crisis.
Do you talk to your clients about pet insurance?
We do talk about health insurance to our pet owners. I think it's a great idea. There is no question that my clients who have insurance are much less stressed about the cost of veterinary care and are much quicker to pursue the best course of action for their pets.
What does it mean to you to be nominated for this award?
It's so gratifying that a client thinks so highly of us that they would even take the time to nominate me. It means that I have done something right in terms of supporting a pet owner. I don't do this job to receive accolades but it's certainly nice to be recognized.
What would you like to say to your clients and community who nominated and voted for you?
I would like to thank the clients and community so much for nominating me. It means the world to me that I have earned your trust and support. I promise to continue to earn it every day.
If you win the contest with the most votes, how do you plan to use your $1,000 prize?
If I win the $1,000 prize, I am going to replenish a fund we have used to help provide veterinary care for clients who cannot afford to treat their pets.
Fun Pet Fact:
After a bichon was dropped as a puppy and broke his leg, a nearby pet store planned to euthanize the animal. However, after finding out about the situation, one of Dr. Sedlacek's employees asked him to repair the puppy's broken femur. Dr. Sedlacek agreed, and planned to offer him up for adoption after the surgery. His animal-loving spouse and children had other plans, however. Dr. Sedlacek explains: "My family saw him during our annual office Christmas party and the adopting family turned out to be my own!"
If you enjoyed reading about Dr. Sedlacek, stay tuned to our blog, where we will share in-depth Q&A sessions we held with the remaining finalists. Learn more about the My Vet's the Best Contest by clicking here. You may vote for Dr. Sedlacek or any of the other finalists once a day through November 12th, 2015 on the Pets Best Facebook page.