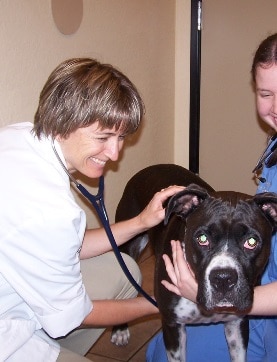 Each year, Pets Best receives thousands of nominations for our annual My Vet's the Best Contest—a contest developed to acknowledge the best veterinarians around the nation. This year, we've again completed the arduous process of selecting a group of finalists and we are pleased to announce the top seven.
Meet Dr. Pamela Ford. As a youth, Dr. Ford had a great love for companion animals and an interest in veterinary medicine. (She was active in the Arizona 4-H program, and a member of the equine, canine, and veterinary science programs.)
During her training at Colorado State University, Dr. Ford gained expertise in traditional western medicine. However, during the last decade of practicing, she expanded her repertoire to include many holistic and alternative treatment options, believing an integrative approach (also known as complementary therapy) achieves the best treatment outcome. She occasionally uses a combination of traditional medicine, nutritional supplementation, herbal formulation, and acupuncture to promote wellness for all pets.
Dr. Ford enjoys spending time with her family and animals, and tries to get outdoors as often as she can. "Watching our two-year-old daughter discover new things and experience the wonders of the natural world is a huge joy for me," says Dr. Ford.
What do you enjoy most about being a veterinarian?
Making a difference in the lives of pets and the families who love them is what I love most about being a veterinarian. The personal connections we make as a team with the families who bring their pets for care is rewarding as we share in the love people have for their pets. I enjoy the challenge of finding customized solutions as a partner in our clients' healthcare decisions for their pet.
What makes you unique in your field?
Two of our core statements are to "respect the difference" and be "100 percent PAWthentic". These core values describe our approach in serving our patients, their families and the community. The team at Arizona Animal Wellness Center is committed to providing the highest level of service and every individual is relied upon for a successful outcome for our patients. Each team member is responsible for ensuring we always do what is best. Our CSRs, technicians, animal care assistants, doctors and administrators pride themselves on creating memorable experiences for the families and patients we serve. We value the bonds we have with each other and the families we have seen for years. Our team goes above and beyond at every opportunity; it is not uncommon for many of them to call a client on their birthday, check up on them after a family member has had a surgery or to drive 20 miles out of their way to bring a client medication or pet food.
Do you talk to your clients about pet insurance?
Yes. Insurance options are offered to our clients from the first puppy and kitten visits as well as at all stages of our patients' lives. We have had many clients say that having insurance made all the difference in their decisions to provide the best care possible for their pets.
What does it mean to you to be nominated for this award?
I am touched to be nominated for this award and I feel that there are so many individuals who deserve credit. I am honored to be part of a profession that is trusted with the care of our clients' pets. I work side by side with a team who work tirelessly and compassionately to enrich the lives of our patients; it is as much their nomination as it is mine.
What would you like to say to your clients and community who nominated and voted for you?
I want to thank the family who nominated me and would like them to know how much this means to me. It is a great responsibility to be entrusted with a pet's care by families that love and value their four-legged members. It is our commitment as veterinary professionals to always provide the best care possible for our patients and build long-term relationships with our clients as partners in the healthcare of their pets. This nomination is a reminder to me of how wonderful our profession is and how fortunate I am to work with such a compassionate and talented group of individuals.
If you win the contest with the most votes, how do you plan to use your $1,000 prize?
It is all too common that economics plays a heavy role in the decision-making process for veterinary healthcare. Our team works within clients' financial means to provide the best care for their pets by offering payment plans, wellness plan packages, and health insurance options. We will often provide the best care available for strays brought into our hospital in an effort to give them a second chance to find their forever families. This prize will aid in providing much-needed care for as many pets and families as possible that could benefit from it.
Fun Pet Fact:
Dr. Ford jokes that it's the family's four cats— Mr. Bojangles, Moxie, Kramer, and Taytor Tot—that actually run the household and allow their human counterparts to live there. The Fords also have three tireless hiking partners: Abby, Gypsy, and McLovin', a four-year-old springer spaniel "with boundless energy."
If you enjoyed reading about Dr. Ford, we invite you to stay tuned to our blog, where we will be sharing the in-depth Q&A sessions we held with the remaining finalists. To learn more about the My Vet's the Best Contest, click here. You may vote for Dr. Ford or any of the other finalists once a day through July 23rd, 2015 on the Pets Best Facebook page.