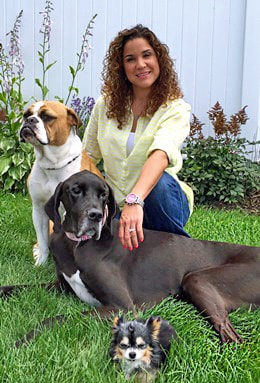 Each year, Pets Best receives thousands of nominations for our annual My Vet's the Best Contest—a contest developed to acknowledge the best veterinarians around the nation. This year, we've again completed the arduous process of selecting a group of finalists and we are pleased to announce the top seven.
Meet Dr. Mariliz Hernanadez. As a student at the University of Puerto Rico, Arecibo, Dr. Hernandez earned a deep-sea diving certificate, which allowed her to research diseases of the coral reef. After earning her bachelor's degree in microbiology, she received her Doctorate of Veterinary Medicine from the College of Veterinary Medicine at Tuskegee University in 2002. She then worked in private practice in Queens, New York, before joining Bellerose Animal Hospital in November 2006.
Dr. Hernandez greatly enjoys practicing general veterinary medicine, and additionally focuses on surgery and dermatology of dogs and cats. She is fluent in Spanish, and uses her bilingual skills to interact positively with her clients to better help their pets. Her approach is one of warmth, genuine concern, and compassion—which her many clients appreciate. In her spare time, Dr. Hernandez enjoys traveling with her family, diving, and enjoying the outdoors.
What do you enjoy most about being a veterinarian?
I get to positively impact a human life by bringing back to health their furry companions.  This is a gratifying experience. I am also my patients' advocate. It is a big responsibility to convey what my patients need to their owners. I'm able to communicate clearly with my Hispanic clients, making sure that we cover all their concerns.
What makes you unique in your field?
I was born in a small town in Puerto Rico. My dream was to study and practice veterinary medicine in the United States. I have been blessed through hard work, compassion and dedication to accomplish all my goals. With the support of my family and staff, I am now the owner of Bellerose Animal Hospital. This hospital has been established since 1963.  This allows me to provide quality and compassionate care to my patients while maintaining a familial atmosphere.
Do you talk to your clients about pet insurance?
Absolutely! Pet insurance is essential nowadays. It is something that gives peace of mind to clients when they need to treat their pets without thinking of the cost so much. Thanks to pet insurance, clients can afford the best care for their pet.
What does it mean to you to be nominated for this award?
I feel honored and privileged to be nominated. To be able to have an impact in someone's life to the point that they acknowledge it publicly [means] a great deal to me.
What would you like to say to your clients and community who nominated and voted for you?
I appreciate all their support. It's uplifting and this allows me to continue on this journey of service and the vocation of helping those that can't talk.
If you win the contest with the most votes, how do you plan to use your $1,000 prize?
I plan on investing the money into a fund that will be used to help clients that cannot afford the medical treatment of their pets.
Fun Pet Fact:
Dr. Hernandez has two domestic short hair cats and three dogs (all of which are rescue animals) and salt water fish. She holds a special place in her heart for Harley, her 16-year-old "vet school cat" who is happily "still kicking".
If you enjoyed reading about Dr. Hernandez, we invite you to stay tuned to our blog, where we will be sharing the in-depth Q&A sessions we held with the remaining finalists. To learn more about the My Vet's the Best Contest, click here. You may vote for Dr. Hernandez or any of the other finalists once a day through July 23rd, 2015 on the Pets Best Facebook page.