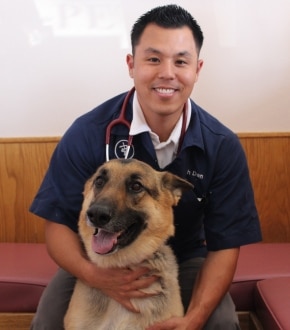 Each year, Pets Best receives thousands of nominations for our annual My Vet's the Best Contest—a contest developed to acknowledge the best veterinarians around the nation. This year, we've again completed the arduous process of selecting a group of finalists and we are pleased to announce the top seven.
Meet Dr. Keith Dan of Desert Care Animal Hospital in Hesperia, California. Dr. Dan grew up in Southern California, where he attended college at the University of California-Riverside. He also attended Cummings School of Veterinary Medicine at Tufts University in Massachusetts, where he graduated in 2007.
He has worked at Desert Care since May of 2008, and is well loved by his clients. Dr. Dan's specialties include surgery, ophthalmology, canine reproduction, and has a special interest in laser treatment for arthritis. In his free time, Dr. Dan enjoys spending time with his wife, playing golf, doing yard work, and exercising his dog.
What do you enjoy most about being a veterinarian?
My greatest joy is watching owners get a new puppy, kitten, or adopted pet. I also enjoy educating them about specific diseases and involving the whole family in the care of their pet.
What makes you unique in your field?
I am willing to try anything within my comfort zone. I have performed surgery on many exotic pets—from pot-bellied pigs to bearded dragons to guinea pigs. I enjoy educating clients to assist in providing better care for his/her companion.
Do you talk to your clients about pet insurance?
In my puppy wellness exams, I inform clients that pet insurance is the best investment you can do for your pets to maintain overall health and prevent any catastrophic illness.
What does it mean to you to be nominated for this award?
When I first found out I was slightly embarrassed, but I am very flattered and honored by this nomination. I am very excited to help rescue dogs in need if awarded this honor.
What would you like to say to your clients and community who nominated and voted for you?
I greatly appreciate all my wonderful clients and their pets. I strive to do my best to improve the quality care of the pets and improve client education.
If you win the contest with the most votes, how do you plan to use your $1,000 prize?
I plan to donate the money to rescue organizations. I work closely with two rescue groups that have captured my heart: Dachshund Paws and Pals, and Bichon Rescue Brigade.
Fun Pet Fact:
Dr. Dan often brings his eight-year-old German Shephard with him to work. The dog has adjusted so well that coworkers have named him the "house" shepherd. Dr. Dan also owns four free-range chickens, two red-eared slider turtles who like to swim, and a Severe Macaw named Chief who turns 23 years old this year.
If you enjoyed reading about Dr. Dan, we invite you to stay tuned to our blog, where we will be sharing the in-depth Q&A sessions we held with the remaining finalists. To learn more about the My Vet's the Best Contest, click here. You may vote for Dr. Dan or any of the other finalists once a day through July 23rd, 2015 on the Pets Best Facebook page.