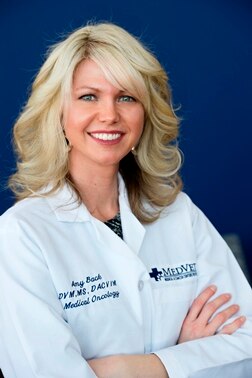 Each year, Pets Best receives thousands of nominations for our annual My Vet's the Best Contest—a contest developed to acknowledge the best veterinarians around the nation. This year, we've again completed the arduous process of selecting a group of finalists and we are pleased to announce the top seven.
Meet Dr. Amy Back. After obtaining her degree from the Ohio State University College of Veterinary Medicine, Dr. Back completed her residency and received her Masters of Biomedical Sciences from Auburn University College of Veterinary Medicine. Since 2013, she has served as a Veterinary Medical Oncologist at MedVet Cincinnati and MedVet Dayton.
Dr. Back is board certified with the American College of Veterinary Internal Medicine, and is also an active member of many professional organizations, including the Veterinary Cancer Society. Her research has been published in Veterinary and Comparative Oncology and she has lectured on metronomic chemotherapy, spinal tumors, and skin tumors. In line with her superior level of expertise, Dr. Back views client communication, compassionate care, and teamwork as extremely important to her daily practice.
Even in her spare time, Dr. Back is concerned with how to provide excellent care for her patients: she enjoys outdoor activities—such as fishing, biking, jogging, and gardening—that allow her "time to reflect, refresh, and renew so as to be even more effective" in her practice.
What do you enjoy most about being a veterinarian?
As the familiar adage goes, "When you love what you do; you don't have to work a day in your life!" Veterinary medicine has afforded me this experience every day. No two days are ever the same. As a veterinary medical oncologist, I have the opportunity to help animals have the best quality of life while spending precious time with their owners. Furthermore, I am able to help pets fight cancer with treatments that will eventually result in research advancements for their human counterparts.
What makes you unique in your field?
As a veterinary oncologist, I like to think outside of the box to come up with creative treatments that help improve the quality and duration of a pet's life. I always strive to formulate unique and individualized treatments for my patients. I approach my practice from a team perspective valuing equally the pet, owner, and the treatment providers.
Do you talk to your clients about pet insurance?
Yes, and many of my patients already have pet insurance. It can really help offset the costs of treating their pets for an illness and maintaining their general wellness.
What does it mean to you to be nominated for this award?
I am humbled and honored to be nominated for this significant award because it means that I was able to meet my goal—as a veterinary oncologist—of changing the lives of my patients and pet parents by providing them with compassionate care that leaves a lasting memorable experience. Even though a diagnosis of cancer in a pet is tragic, I seek to shoulder the responsibility for optimal treatment so the people can look back at the experience with loving memories of their pets.
What would you like to say to your clients and community who nominated and voted for you?
First, I would like to express my appreciation to my client for investing the time to nominate me for this award. I know how very busy our lives have become, and it truly means so much that  he would take the time to nominate me. Secondly, this nomination reinforces that I am truly making a positive impact in peoples' and pets' lives which serves as a significant motivator in my practice.
If you win the contest with the most votes, how do you plan to use your $1,000 prize?
I would love for [the client who nominated me] and I to decide together on a charitable canine cancer organization donation. I hope this award would be able to help other pets battling cancer through pet cancer research.
Fun Pet Fact:
Dr. Back's first boxer, Brewer, inspired her to be a veterinary oncologist through his courageous battle with lymphoma. She now owns two boxers, Stella and Titan. She describes Stella as "a beautiful brindle girl that exudes personality and truly loves me with her entire being," while "Titan is a fun loving, flashy fawn teenager that will fetch the frisbee until he falls over and is full of that boxer wiggle!"
If you enjoyed reading about Dr. Back, we invite you to stay tuned to our blog, where we will be sharing the in-depth Q&A sessions we held with the remaining finalists. To learn more about the My Vet's the Best Contest, click here. You may vote for Dr. Back or any of the other finalists once a day through July 23rd, 2015 on the Pets Best Facebook page.