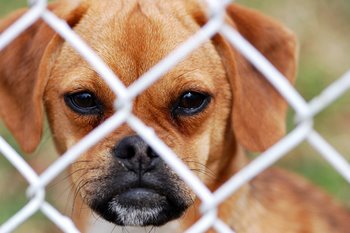 By: Chryssa Rich
For Pets Best Insurance
Working in the pet insurance industry, I tend to follow pet-related groups on Facebook. Some of the pages I follow include rescue groups where I see daily pleas for foster parents to come forward and help pets showing signs of "kennel stress."
It's true that most dogs would prefer not to stay in a strange kennel by themselves, although many do okay. But those who start suffering clear signs of stress need to be handled in a special way to ensure they're happy, well-adjusted and adoptable when the right family comes looking for them.
Whether a dog was surrendered by its owners, found running the streets, or just boarded in a kennel while its owners are on vacation, the causes of kennel stress are pretty clear. All of a sudden, the pup is contained in a new area, eating different food, sleeping with different bedding, surrounded by unfamiliar animals and accompanied by unfamiliar humans. All these changes can really affect pet health.
Some top signs of kennel stress include:
• Pacing
• Shivering or shaking
• Tail chasing
• Bed chewing
• Refusal to eat
• Lethargy
• Excessive barking and jumping
Fostering, which is also called domestic socializing, is often the best way to counter the effects of kennel stress. When that's not an option, shelter and rescue workers can try:
• Playing soft music
• Going for individual walks with the affected dog
• Grooming
• Socializing the affected dog with other dogs
• Playing games and teaching tricks
If you're boarding your dog while you're on vacation, you can reduce kennel stress by doing the following:
• Visit your dog's kennel before you leave town to make sure it's run properly and it will be staffed at all hours by a knowledgeable staff.
• Ask to leave your dog for just a few hours a day first, to ensure he's comfortable there before the big trip.
• When you drop off your dog, include his favorite food, treats, toy and bedding
• Include an unwashed blanket or shirt of your own for an added familiar scent
Of course, not all dogs respond the same to the above solutions and preventive measures, so it's important to monitor progress and see what works for each pet. And if you have room in your pet-friendly home, consider becoming a foster parent. Your efforts could help keep pets healthy, happy and ready for their forever homes.
For more information about pet health, well-being and pet insurance, visit the Pets Best Insurance blog.