By: Chryssa Rich
Pets Best Insurance Marketing Associate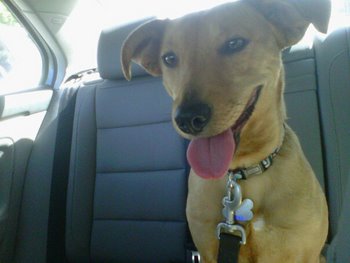 In the past few months, I've become one of "those people." You know, the type of person who purchases a pet insurance policy, buys clothes for her dog and shells out money for doggie daycare.
I've become a doting pet owner who wants to ensure my pets' health and happiness. But in my defense, my short-haired American Dingo (aka Carolina Dog) shivers like crazy when we camp in the summer, and sleeps much better with a hoodie or jacket.
As for the doggie daycare—she goes once a week and it's well worth the money. She plays like crazy and I get about 36 hours of peace and quiet afterwards while she rests up. It's also nice to know that she has a familiar place to stay if I ever need to board her overnight.
If you're considering a doggie daycare or hotel for your best friend, here are a few things to look for:
Friendly and Professional Staff
The staff should be friendly and show sincere care for your pet. (This is not the place for apathetic teenagers saving up for spring break.) At my dog's daycare, they remembered Jayda after just two visits. They sent us home with a cute picture after her first day, and they are genuinely concerned about dog health care, as they always give her a breath-freshening treat before we leave.
Free Trials and Perks
Most pet daycares and hotels will offer at least a half-day free to be sure your pet is friendly and is a good fit. In addition to offering a warm-up session for your pet, it ensures the buddies he'll be staying with are also well-adjusted. Once you've chosen a place, you should inquire about competitive pricing, discounts or rewards when you purchase multiple days or refer a friend. The amount you should expect to pay for doggie day care will vary by region, but can range anywhere from $17 to $30 per day.
Attention to Pet Health
The doggie daycare you choose should require vaccination records for every pet, no exceptions. If they don't ask for your pet's records, they're probably not getting them from anyone else. You should also sign a plan outlining what to do in the case of a pet health emergency. Because Jayda has Pets Best Insurance, I was able to pre-approve veterinary care up to a high limit without requiring the doggie day care to contact me first. I can relax knowing that if anything happens, they'll get her to the vet pronto and I won't be in financial distress.
Amenities and a Webcam
Remember that we're talking dogs, here. They don't care about marble countertops or spa-like atmospheres. Jayda's daycare has two large rooms: one for small dogs and one for large, both with couches, plus a fenced outdoor area. And for me, a webcam is available 24/7 so I can see what she's up to anytime.
Listen to Your Pet
If your dog seems scared or uncomfortable when you pick her up, or tries to avoid going into the daycare after a few visits, it's time to shop around. I know Jayda loves hers because she takes me to the appropriate doors to get in, and rarely looks back once she's off her leash inside. It makes me happy to know she's excited about where she'll be spending the day.