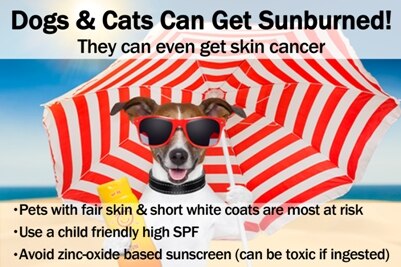 By Dr. Fiona, a veterinarian and blogger for dog insurance and cat insurance provider, Pets Best Insurance
Anytime your dog or cat is exposed to the sun for a period of time, sunscreen should be used. Dogs and cats can get sunburned, and they can also get skin cancer.
-Dogs and cats with fair skin and short white coats are the most at risk.
-Protect your pets with a child friendly high SPF.
-Avoid zinc-oxide based sunscreens as they can be toxic if ingested (for instance the pet manages to lick the sunscreen off).
Pets Best Insurance Has Cancer Coverage for Dogs and Cats

Get a Quick, Free Quote Online or Call Pets Best at 877-738-7237