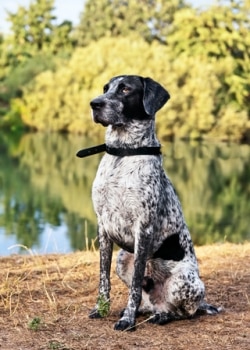 By: Dr. Fiona, a veterinarian and writer for Pets Best, a dog insurance and cat insurance agency.
About the German Shorthaired Pointer
Height (to base of neck): 23-25″
Weight: 55-70 lbs
Color: Dark brown (liver), black, or either liver and white or black and white. The head is commonly a solid color and the body is speckled or "ticked."
Origin: 19th Century Germany
Coat: Water resistant, short and flat coat with a dense undercoat which is protected by stiff guard hairs.
Life Expectancy: 9-12 years
Energy level: High
Exercise needs: high
Is a German Shorthaired Pointer the Right Dog Breed for You?
The German Shorthaired Pointer was bred as a working dog and therefore does best as part of an active family. They are even-tempered, very intelligent and highly trainable when with a devoted owner.  They can be a loyal family watchdog as well. This breed can verge on hyperactive without consistent exercise. The short coat sheds, but grooming is minimal. They are best suited to a lifestyle that includes a lot of exercise and activity.
5 Common Illnesses, Medical Conditions and Accidents for the German Shorthaired Pointer
According to the number of dog insurance claims Pets Best  receives
| | | |
| --- | --- | --- |
| Medical Issue  | Average Claim Amount  | Most Expensive Claim  |
| Laceration | $492 | $2,718 |
| Ear Infection | $263 | $1,269 |
| Lipoma (Fatty Tumor) | $492 | $2,680 |
| Cancer | $1,600 | $6,182 |
| Skin Allergies | $442 | $1,302 |
Protect Your German Shorthaired Pointer with Pet Insurance

Get a Quick, Free Quote Online
or Call Pets Best at 877-738-7237