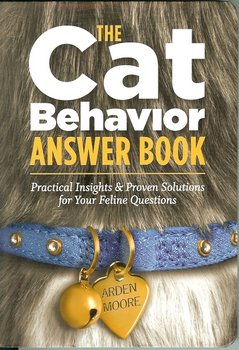 Oh Behave!
Q&A with Pet Expert Arden Moore
For Pets Best Insurance
Q. I've always had fish and turtles, and finally decided that I was ready for a more complicated, interactive pet. After researching pet insurance, I recently adopted a big orange tabby from the local animal shelter. Gus is great, but he loves to claw and tear at his scratching post. Luckily for me, he leaves my couch alone. Why does he have this need to scratch?
A. Bravo! With no disrespect intended for the fish and turtles in your life, I am happy that you are ready and willing to enjoy the perks of feline companionship. And I am happy to hear that you adopted from a local shelter because you have given a homeless cat another chance.
Scratching, as you have discovered, is one of the signature actions of cats. Even declawed cats will perform scratching gestures. You are lucky that Gus adores his scratching post and not your expensive sofa. Cats scratch for a couple of reasons. One reason is to keep their claws in shape – what I call a "peti-cure." Those scratching sessions remove the dead outer nail covering and hone the claw's shape and sharpness, keeping Gus prepared to defend himself or to pounce on a passing toy mouse.
However, the paramount reason cats scratch has to do with turf talk. When Gus scratches, he is leaving a feline business card, if you will. He not only leaves physical marks, but also the scratching action releases a scent from the sebaceous glands in his paws that communicates to other cats – and to himself – that this is his domain.
You mention that you are grateful he only scratches the cat post, but I'll bet if you pay close attention, you will discover that old Gus is pawing and rubbing his face to leave his scents on doorways and wall corners. It appears as a dirty, oily discoloration on the walls and doors. This is another form of feline scent marking.
Confounded by your canine? Frustrated by your feline? Relax. Pet expert Arden Moore is here to deliver the real truth about cats, dogs…and you with her column appropriately called, "Oh Behave!"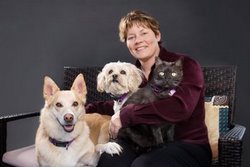 On a regular basis, Arden will unleash excerpts from her two award-winning books, The Dog Behavior Answer Book (named the top training and behavior book by the Dog Writers Association of America) and The Cat Behavior Answer Book (named the top training and behavior book by the Cat Writers Association). Learn more about Moore, who hosts the "Oh Behave!" show on Pet Life Radio www.petliferadio.com – the No. 1 pet podcast in the world — by visiting her Four Legged Life website (www.fourleggedlife.com).