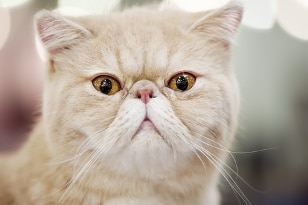 By Dr. Fiona, a veterinarian and writer for Pets Best, a dog insurance and cat insurance agency.
About the Persian
Weight:  8-15lb
Points of conformation: Body is heavy and cobby with small round ears.  They have a very short upturned nose on a large round head.  Short neck and short tail. Large round, tufted paws.
Coat: Thick soft undercoat with profuse standoff outer coat of soft long hairs.  Well-developed ruff and frill, with heavily haired tail.
Color: All accepted
Grooming needs: High grooming needs, once to twice daily brushing and regular baths are needed. Daily removal of tears in facial folds may be necessary.
Origin: Iran (formerly Persia)
Behavior Traits: Gentle and placid.
Is a Persian cat right for You?
The Persian is gentle, easy-going quiet and affectionate.  They get along well with children and other pets. They are best suited to an indoor lifestyle and tend to be somewhat sedentary.
Common Illnesses, Medical Conditions and Accidents for the Persian Cat
According to the number of cat insurance claims Pets Best receives
| | | |
| --- | --- | --- |
| Medical Issue  | Average Claim Amount  | Expensive Claim  |
|  Ear Infections |  $202 |  $560 |
|  Chronic Renal Failure |  $708 |  $2,727 |
|  Cystitis |  $531 |  $2,131 |
|  Tracheitis |  $260 |  $865 |
Protect Your Persian Cat with Pet Health Insurance!
Get a Quick, Free Quote Online
or Call Pets Best at 877-738-7237