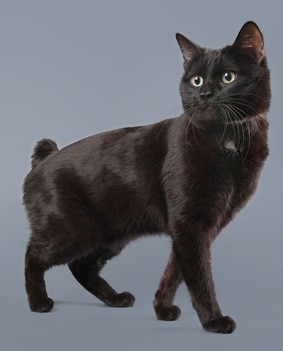 By Dr. Fiona, a veterinarian and writer for Pets Best, a dog insurance and cat insurance agency.
About the Manx
Weight:  8-12lb
Points of conformation: Medium sized cobby (compact) body with round features.  Small round tipped ears and short neck.  They have a slightly arched spine.
Coat: Dense, short, double hair coat with hard textured outer hairs.  Longhaired variety has silky textured medium length coat.
Color: All colors are accepted.
Grooming needs: Daily grooming is needed to prevent the undercoat from building up.
Origin: Isle of Man, England
Behavior Traits: Sweet and playful
Is a Manx cat right for You?
Manx cats love close contact with people and can be very loyal.  They are easy going and can be trained.  They are intelligent and will occasionally possess dog-like traits, such as burying their toys.  They are good hunters and will accept dogs and children if raised with them.
Common Illnesses, Medical Conditions and Accidents for the Manx
According to the number of cat insurance claims Pets Best receives
| | | |
| --- | --- | --- |
| Medical Issue  | Average Claim Amount  | Expensive Claim  |
|  Ear Infections |  $45 |  $80 |
|  Cystitis |  $323 |  $548 |
|  Cardiomyopathy |  $391 |  $437 |
|  Chronic Renal Failure |  $2,759 |  $6,513 |
Protect Your Manx Cat with Pet Health Insurance!
Get a Quick, Free Quote Online
or Call Pets Best at 877-738-7237