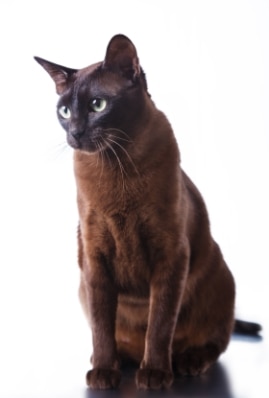 By Dr. Fiona, a veterinarian and writer for Pets Best, a dog insurance and cat insurance agency.
About the Havana Brown
Weight:  Females 6-8 lb, Males 8-10 lb
Points of conformation: Long head with hourglass muzzle, which is a breed distinguishing feature.  Round forward tilting ears Lithe medium length body, long legs and a long tapered tail.
Coat: Medium short and closely lying.
Color: Rich shiny chocolate brown with no other markings.
Grooming needs: Minimal grooming needs, weekly brushing.
Origin: Great Britain.
Behavior Traits: Very intelligent and affectionate
Is a Havana Brown cat right for You?
The Havana Brown is playful and a high energy cat with a dog-like personality.  They can be leash trained and have been known to fetch.  They crave close human contact and will bond strongly with a 'favorite person.'  They are adaptable, but prefer a less chaotic home and can take a while to warm up to new people.
Common Illnesses, Medical Conditions and Accidents for the Havana Brown 
According to the number of cat insurance claims Pets Best receives
| | |
| --- | --- |
| Medical Issue  | Average Claim Amount  |
|  Allergies |  $185 |
|  Dermatitis – Bacterial |  $135 |
|  Gastritis |  $387 |
|  Gastroenteritis |  $58 |
|  Periodontal Disease |  $305 |
Protect Your Havana Brown with Pet Insurance

Get a Quick, Free Quote Online
or Call Pets Best at 877-738-7237