Books & Barks Contest
Posted on January 12, 2015 under Contests and Infographics from Pets Best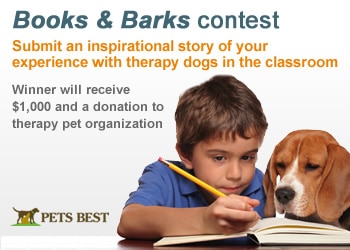 Pets Best has developed a contest to promote the benefits associated with utilizing therapy dogs to assist students in classroom and library programs across the nation. Pets Best is proud to host the second annual Books & Barks contest.
How to participate in the Books & Barks contest:
1. Simply share an inspirational story about your experience with therapy dogs in classroom or library reading programs.
2. Eight finalists will be announced and voting opens to the public.
How to enter the contest:
Our online form makes it easy for you to enter our contest. Your story doesn't have to be long, but we want to hear about your experience with therapy dogs in schools or libraries. Whether you're a student who personally benefited from therapy dogs, a teacher who witnessed overall class improvement, or a therapy dog handler, please share your stories with us! To enter the contest, go to the Pets Best website.
How are winners selected?
Once per year, a panel of Pets Best representatives will select finalists. The public will then vote to choose the grand prize winner.
Prizes and Awards
The winning story will receive $1,000 from Pets Best for their school or library and an additional $500 donation to therapy dog handler's animal non-profit of choice.
Voting
Once public voting opens, you may vote for your favorite therapy dog finalist by using the Pets Best Facebook Page 'vote tab' or the contest link (specified on our Facebook page, once voting is open).
Important dates to remember
Last day to submit entries:  February 15, 2015
Finalists will be notified:  February 27, 2015
Public voting begins:  March 5, 2015
Public voting ends:  March 12, 2015
Winner will be announced:  March 13, 2015
Stay in the Know
Follow Pets Best on Facebook & Twitter to get the latest updates on this contest and others throughout the year.
See official contest rules HERE