By: Gary Eelman
For Pets Best Insurance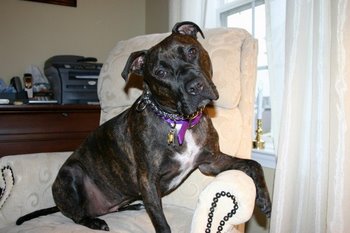 When people used to ask me what kind of dog I owned, even before my wife worked in the dog insurance industry, I was always a little reserved about saying Pit Bull (I've owned two). Many people say they own a American Staffordshire Terrier or Staffordshire Bull Terrier just to avoid the stigma that has become an unfortunate and unwarranted part of any association with the Pit Bull breed.
How is it that the Pit Bull, which was once America's sweetheart breed, is now largely perceived as a blood thirsty beast and banned in numerous American cities and a dozen different countries?
The American Pit Bull Terrier (APBT) is recognized by the United Kennel Club (UKC) which was founded in 1892. According to the UKC, "aggressive behavior toward humans is uncharacteristic of the breed." During the 19th century, England, Ireland, and Scotland began to experiment with crosses between Bulldogs and Terriers, looking for a dog that combined the gameness of the Terrier with the strength and athleticism of the Bulldog. This was the origin of several breeds including the APBT. The dog was first bred to bait bulls and bears. When baiting bulls was deemed inhumane, "ratting" (a practice of putting rats in a pit for a specified time with the dog) and dog fighting became more popular. Any aggression towards humans in these activities was met with the immediate destruction of the dog and as a result, Pit Bulls became recognized for their loyalty and trustworthy nature with humans.
Pit Bulls are a fixture in American history and culture. In WWI, Pit Bulls including Sergeant Stubby, the most decorated war dog of WWI, were mascots depicting bravery and heroism. Farmers and ranchers used their Pit Bulls for work and as pets. Due to their friendliness towards people, Pit Bulls were once an extremely popular family dog in the United States and a favorite breed among politicians and celebrities such as Theodor Roosevelt, Helen Keller and Our Gang/The Little Rascals. The Pit Bull's popularity began to decline in the following World War II in favor of other breeds such as Labrador and Golden Retrievers.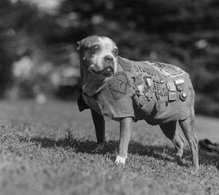 Pit Bulls are loving, gentle and loyal pets who dedicate their lives to pleasing their owners. They shed very little, never smell, and believe they belong on your lap. They are generous clowns who love to play and give kisses. However, the Pit Bull's natural muscular build, athletic capabilities, and tenacious work drive are not to be taken for granted. Regardless of breed, any dog can become aggressive if not properly bred or socialized.
In recent times, the Pit Bull's physical traits, along with its strong desire to please its owners, have been exploited by organized dog fighting rings which have come about in the past 20 years. For the first time in this breed's history, fatal bites and attacks on humans caused Pit Bulls, that were not properly socialized or bred, to be increasingly reported. Because of this, Pit Bulls today are linked to crime, poverty, dog fighting rings and are over-represented as a breed in animal shelters across the country.
As a society we are easily led to believe what the media and our own fears would have us think. Amazingly, mis-information and sensationalism has led to the notion that the breed is the problem, not people. For more information on Pit Bulls, there are several organizations and celebrities, such as Cesar Milan, who work to educate the public on the breed and responsible dog ownership and breeding.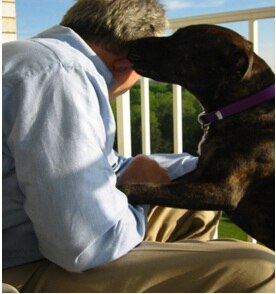 As for me and my dog, when people ask me what kind I own, I proudly say "a Pit Bull." If they have a negative reaction, I try to educate them on how they have been misled to believe what they do. I hope more people give this maligned breed a chance and that Pit Bull owners appreciate the responsibility of raising a good ambassador for the breed so we can rise above our fears and be as good to these wonderful friends as they have been to us. For more information on various other dog breeds and other pet health information, visit www.petsbest.com.