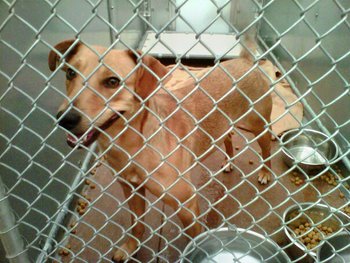 By: Lisa Deanne Gilman
The Rescue Train, for Pets Best Insurance
As a child I never said, "When I grow up I want to run an animal rescue." So how did I end up dedicating my adult life to saving dogs and cats from euthanasia, and placing them in loving homes? It started when I visited an L.A. city animal shelter and a shelter worker informed me that a large number of adoptable shelter dogs and cats were euthanized every week because they had too many animals and not enough homes.
I was shocked that in the creative and affluent city of Los Angeles this was their solution to this problem. I remember standing in the loud, overcrowded kennel looking into all the dogs' scared eyes and my heart just broke. Their faces haunted me and I could just not turn my back. And so my journey began.
After a decade of rescue work and over a thousand adoptions, I can tell you that running an animal rescue is not an easy job. For the staggering number of animals who need help every day it's often life or death.
Pet overpopulation is a national crisis. The Humane Society of The United States estimates 3-4 million dogs and cats are euthanized in shelters across the country each year. Rescuers know that spaying and neutering is the solution to this crisis; however, getting local communities, city and state governments to agree on how to deal with the issue is difficult. Often times, pet insurance companies will even cover a portion of spaying and neutering in their benefits because they understand the importance.
People often tell me they can't visit animal shelters because it makes them sad. Animal shelters make rescuers sad, too, but we refuse to let our emotions get in the way of saving lives. We understand we can't save them all but we can and do make a difference. Alone, rescuers have shed many tears for animals they can't save. But they get up the next day and get back into the ring as they fight for those creatures who can't speak for themselves.
The number of lives we can save is dictated by the amount of funds raised. On any given day I can go into the shelter and have the funds to save five animals when 30 are facing euthanasia. How do I pick? In truth, it never gets easier. On The Rescue Train we try to have a diverse group of animals up for adoption. However there are certain animals that you come across that just tug at your heartstrings. Because of their age, breed or a treatable medical condition they will not get adopted by the public without some extra help. Those special cases can often be the most rewarding when they find their way home.
A typical day finds a rescuer going to the animal shelters, taking their rescues to vet appointments, rescuing animals living on the street, recruiting volunteers, answering phone calls and e-mails from people who want to give up their pet or who have found a lost or stray animal. We also educate the public on responsible pet ownership, go to adoption events, hold fundraisers, and visit kennels and foster homes to spend time with the animals in our care. But our favorite part of the job is delivering a dog or cat to its new forever home. There is no greater joy than when an animal who was so close to death gets adopted and becomes an important family member.
Every adoption is a victory and a joy, but there are some that stick out in my mind: PJ the golden retriever mix who was adopted for a little boy whose father had passed away, Liberty the beagle who helped her owner through her breast cancer treatments, and Tony who was labeled a hard to place dog until he was trained to be a companion for a woman in a wheelchair just to name a few.
As rescuers we know that every time we save an animal there is the possibility that this animal can make a profound impact on one person's life. We dream of a day when our services won't be needed, where there is a loving home waiting for every dog and cat in the world.
Note: Lisa Deanne Gilman is The Executive Director of The Rescue Train (therescuetrain.org) a Los Angeles based, 501(c)3, nonprofit, no kill dog and cat rescue dedicated to eliminating animal suffering and euthanasia through hands on rescue work, education and awareness.