By Julie Sheer, Houzz.
There's nothing quite as safe and comforting for household pets as our cozy homes. When nature calls, however, dogs rely on us to get outside. And even the laziest couch potato (animal or human) needs a daily dose of the great outdoors. Having a pet door makes getting out easier for everyone.
A pet passageway can be a simple frame with a flap or a high-tech electronic opening. It can be installed in a door, inserted in a slider track or built into a wall. Some are easy to install yourself, while others are best left for professionals. We'll sort through the possibilities here — and reveal some design-forward options.
A Clever Custom Tunnel
Before we look at some of the standard types of pet doors, here's a custom pet portal to drool for. This passageway for two French bulldogs was part of a renovation in a 1906 Seattle home. "These funny little French bulldogs are very important to our client, so their happiness was considered throughout the design," says Kit Kollmeyer of Robert Edson Swain Architecture and Design.
The exterior dog door leads to a tunnel under the kitchen's lower cabinet behind the kitchen counter. The tunnel is carpeted inside, which helps clean paws before dogs enter the kitchen and "is really fun for them," Kollmeyer says. The top lifts so the tunnel can be vacuumed.
Installed in a Door
A simple pet door meant to be installed in a home's exterior door has a frame of aluminum or plastic and one or two hard or soft flaps that pets pass through. Of all the pet doors, this is usually the easiest to install yourself.
Consider that plastic can be flimsy and break; flaps and aluminum tend to expand and contract with changing temperatures, eventually becoming warped. Most pet door companies sell replacement flaps.
Models with dual flaps tend to be more energy-efficient; some extreme-weather models utilize three flaps. Some have lock-out panels that can be slid into place for security when the door is not in use.
Related: Give Your Pet Access to Your Front Door
Built-In Pet Doors
Some companies sell doors with pet pass-throughs already built in.
This version from Larson Storm Doors has a pet door built in and a strong pet-resistant screen.
Installed in a Wall
Sometimes a pet door installed in a wall leads exactly where you want your pet to be in the house — for example, a utility room, kitchen or laundry room. This can be an unobtrusive way to get a pet in and out of the house. It involves cutting a hole in a wall and installing a pet door frame, flap and sometimes a tunnel for deeper walls. Do not attempt this yourself unless you have the right tools and some mad wall-cutting skills. This is a project best taken on by a carpenter or trusted handyman.
This handsome dog door in Denver was custom-built through a wall using a standard pet door mount. HighCraft Builders framed the door with a rubber flap for the pet to pass through. It's air- and weather-tight, says Hannah Hill of HighCraft. The wooden door closes and locks like a normal door.
You can build a pet door through a wall yourself if you're super handy, but there are major considerations to watch for, such as what's behind the walls. "I wouldn't ever suggest that a homeowner cut into their exterior walls without knowing what they're doing," Kollmeyer of Robert Edson Swain says. "All sorts of things are packed into walls, like electrical or plumbing that could certainly ruin someone's day if they were cut into. Also, any openings in exterior walls need to be well waterproofed so that rain doesn't leak into the stud bay."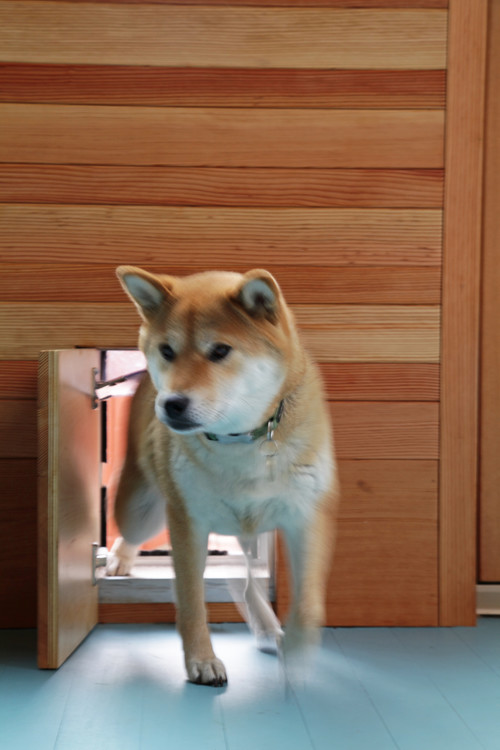 Electronic Pet Doors
Electronic pet doors allow only pets wearing sensor tags to enter or exit through the door. The door and tags can be programmed to allow pets in and out at certain times of the day, and the door remains locked at other times. Some electronic doors can be programmed to work with an animal's microchip. An added bonus: The Humane Society says pet doors with sensors are the best way to keep out raccoons, skunks and other unwanted wildlife.
Related: Tech Gadgets for Pets
This streamlined passageway in San Francisco shows that dog doors can be stylish as well as functional. Shown here, Wainwright passes through a sleekly designed dog door that unlocks when he gets close, thanks to a sensor on his collar.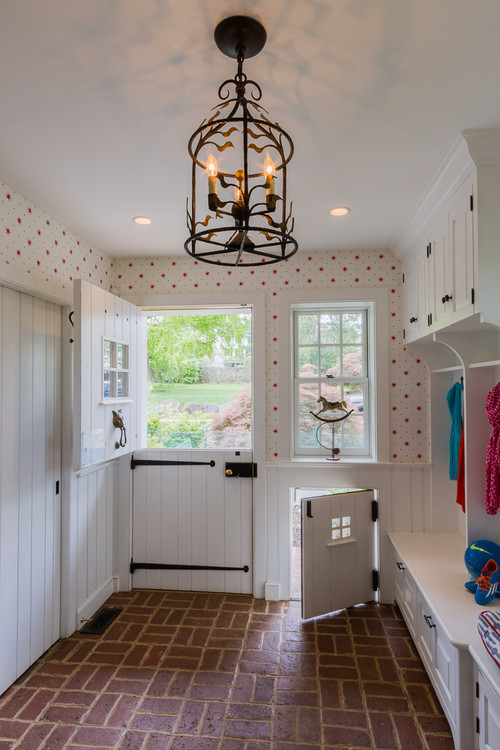 Designer Doors
A custom dog door mimics an adjacent Dutch door at the entrance to this farmhouse mudroom in Philadelphia.
Here's another take on a custom through-the-wall dog door. This one goes well with the wood trim around the window and door in a mudroom in New York state.

Sliding-Glass Door Panels
Some companies sell panels with built-in pet doors for sliding glass doors. They slide in next to a partially open sliding glass door. Few tools or skills are required for installation. Make sure there's a locking mechanism if you plan to leave the panel in place. Some models come with weatherstripping that adheres onto the side of the panel. The version shown here has three height adjustments and fits most sliding glass doors. PetSafe also sells a variety of sliding door inserts.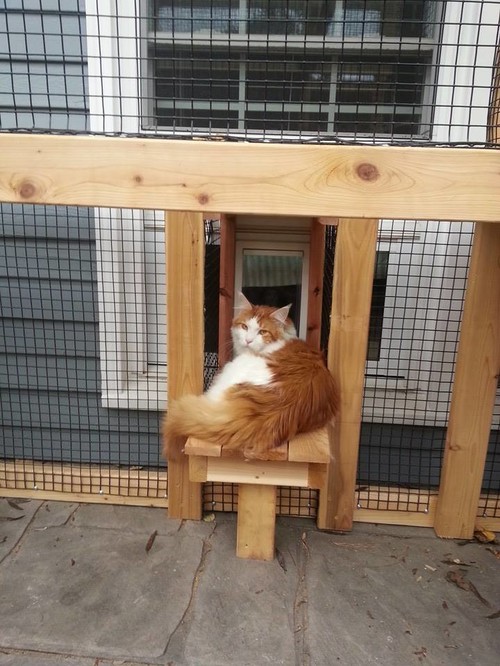 Doors for Cats
Pet doors are a no-brainer for dogs, as long as they're exiting to a safe, enclosed space such as a backyard. But for health and safety reasons, some discourage the use of pet doors for cats, unless it's to an enclosed outdoor playhouse, or "catio," such as this one built by Zeigler Homestead Services in Georgia.
If you have an indoor-outdoor cat, keep in mind that cats prefer to travel through doors with hard flaps they can see through rather than soft flaps that brush against their backs, according to PetSafe.