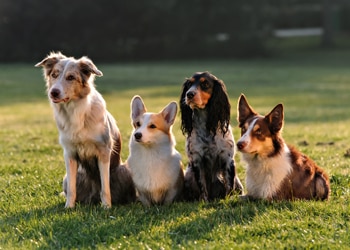 Finding the Doggy Daycare that is the best fit for you and your dog is important. Here are eight points to consider before you enroll your pup:
1. Staff
Make sure that staff members are trained to work with dogs and that there are enough people to supervise the dogs. Ask about the amount and type of experience of the employees and the dog to staff ratio.
2. Maintenance
Find out how the daycare cleans and disinfects its facility throughout the day and at the end of the day. Look to see if the play areas and crates are in good condition, clean, and safe for your dog.
3. Emergency
Inquire about the daycare's procedure for managing an emergency. Whether an emergency affects one dog or the daycare as a whole, you'll want to know that there is a plan for your dog and that he or she will continue to be in good care.
4. Clientele
You may want to look into the process of how the daycare accepts a newcomer. An interview process of a potential newcomer assesses whether or not the daycare staff and current dog attendees are a good fit.
Read More: Is Dog Health Insurance right for your pup?
5. Credentials
Your dog deserves to be in a daycare that is in good standing. Ensure that the facility is insured, bonded and/or accredited by a national dog association.
6. Visit the Location
The best way to determine if a particular daycare is a good fit for your dog is to pay them a visit. Making sure your dog is in a safe environment with friendly staff is most important and will ensure that your dog has a great home away from home.
7. Putting the 'Care' in Doggy Daycare
Some Doggy Daycares offer additional services for your dog. From grooming and massages to overnight boarding, be sure to ask what else is offered by your Doggy Daycare.
8. Fights
Ask how the staff handles dog fights and what the policy is when a dog is playing a little too rough.
By checking into these eight areas you can feel more confident when deciding on a dog daycare for your pup.