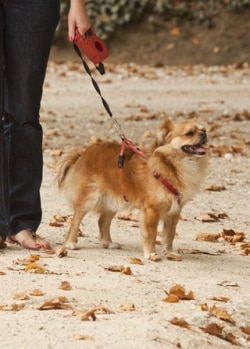 At Pets Best Insurance we want your dog to live a long, happy and healthy life. Part of a healthy dog is ensuring they get good exercise, which we know walks give them. But did you also know it helps maintain the bond between you, and establishes you as the leader?
Professional dog walker, Kelley Goad, of BallWalkPark.com in Seattle shares her top tips/reasons for walking your dog.
1. Have the right gear for your dog
Some dogs do best with a front clip harness (reduces pulling and is very safe), or a head halter, a prong collar or just a flat collar. I find that almost any dog can adapt to the front clip harness very easily and it makes walking much more enjoyable for both of you.
2. Keep a short leash
I like to hold the majority of the leash with my right hand, cross my body and have the dog walking on my left side, and left hand just holds the leash closer to the collar. This gives you a good Plan B should the leash get out of your hand.
3. Carry treats
Carry treats and practice the "leave it" command. It can be very useful when it comes to squirrels, birds, or passing dogs if the sniffing gets a little too invasive.
4. Ditch your Phone
Try to stay off your phone and enjoy this time with your pup. It makes me so happy to spend this time with my dog and see how happy she is trotting along with a big smile on her face. I come home in a better mood every single time we go on a walk. Try it!
5. Exercise, Stimulation and Satisfaction
Walks are great because they provide exercise and mental stimulation. Your pup isn't only tired from the walk, but is mentally satisfied after tracking down all those scents, observing the sights and sniffing the smells. This combination leads to a more balanced and calmer pup.
6. Dogs thrive on routine
Something as simple as a 20 minute walk in the morning and/or after work can be just what your dog needs to feel like all is OK in their world.
7. Bonding and Pack Hierarchy
Walking your dog is important for creating or maintaining the bond between you two, it also helps establish you as the pack leader.
Did you know Pets Best has pet insurance policies that can reimburse you off your veterinarian bill, up to 100%?

Or Call 877-738-7237 to Add a Pet to Your Current Policy