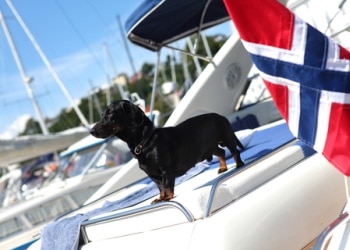 By Arden Moore, a certified dog and cat behaviorist with the International Association of Animal Behavior Consultants. Arden is an author, radio host, and writer for Pets Best, a pet insurance agency for dogs and cats.
These days you see dogs on all sorts of motorized water crafts, from sail boats, to jet boats, to house boats. The ways to enjoy our rivers, lakes and the open sea are endless. So if you plan to have your pet play on the water with you in a motorized boat, it's important to know how to keep your pets safe on the water.
For starters, not all dogs or cats relish being boat pets. Be candid when assessing if your pet wants to cruise as much as you do. Gradually acclimate your pet to the boating life. Spend time in the boat with them without turning on the motor. The next time, turn on the motor but stay at the dock. Gradually build up their sea legs.
Heed these other tips to ensure a safe boating voyage for all:
1. School your pet
Boat pets must also heed basic obedience commands, such as sit, stay and come. They must also know nautical commands, such as "on boat" and "off boat." Practice rescue drills to ensure your pet will paddle to safety spots – floatable doggy ramps or stairs.
2. Invest in pet life vests
Boat pets should wear lightweight pet life vests that feature hand grips on top so you can easily grab your pet. This makes it much easier to grab them whether they fell into the water or are caught in a strong current.
3. Provide a poop deck
A favorite among boats with longer-term pet guests is to designate an area of the boat to have a grass-like turf that contains a canine-beckoning scent and is easily washed with a hose. Place a litter box in the galley for your cat.
4. Don't slip up
Provide non-skid flooring to ensure steady footing by your pet and do not let your pet venture on the deck without your supervision and without being leashed.
5. Be a stair master
Work out a plan for your dogs to reach the top deck and head back down. In the houseboat we rented, the stairs were steep and narrow, but feature slip-proof backings. We were able to easily cradle our small dog but for our 60-pound dog, we learned to have someone on the top deck and someone on the bottom deck so we could usher her carefully up one step to the next.
6. Keep them healthy
Ensure your pet is current on all necessary vaccinations to especially protect against parasites and giardia. Always rinse your pet thoroughly with clean water after each swim and always keep your Pets Best pet insurance policy current. Know the location of the nearest veterinary clinic at each harbor should a pet emergency arise.
Protect Your Pet with Pet Insurance

Get an Instant Quote Online
or Call Pets Best at 877-738-7237