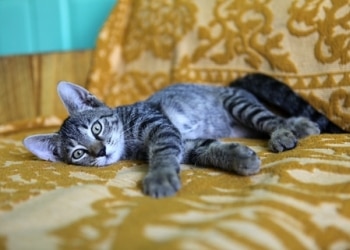 By Arden Moore, a certified cat and dog behaviorist with the International Association of Animal Behavior Consultants. Arden is an author, radio host, and writer for Pets Best, a cat insurance and dog insurance agency.
Welcome to the wonder year – feline style. The first year of a kitten's life can be fun, fascinating – and frustrating. It is important to keep in mind that kittens aren't born with instant manners or training manuals. They seem to possess an innate ability to create mayhem, mischief and madness – all in the name of feline fun.
Leaping, pouncing, climbing and diving are built in to a young cat's genetic code. These supercharged, high-energy kittens spend their waking hours vigorously exploring their environments and testing their abilities.
Here are five kitten-training tactics designed to help you survive the "wonder year" and maintain your sanity:
1. Start behavior training on Day. Don't delay. Kittens grow up fast and you don't want bad habits to become permanent ones. Never reward bad behavior – even when it is cute.
2. Strive for consistency. Always use the same voice commands and hand gestures so you don't confuse your kitten. For instance, always say, "Sit up" and raise your index finger when you want your feline student to stretch up with his weight resting on his hind feet.
3. Avoid physical punishment. Your hand should be viewed as a friend, not a foe to your kitten. Hitting a kitten fosters fear and distrust. You need to be regarded at the benevolent leader, the keeper of all good resources (and that includes high-quality treats).
4. Remember the species. You adopted a kitten, not a puppy. The two species have different motivations for what they do. Don't expect your kitten to fetch your slippers. Whereas a puppy often strives to please you, a more independent-minded kitten needs to know what's in it for him to comply.
5. Customize your behavior training. If you have adopted more than one kitten, recognize that each may have a different personality – even if they are litter mates. Strive to meet the individuality of each kitten during your mini-training seasons and keep in mind that some kittens respond to some techniques better than others.
Protect Your Kitten with Pet Insurance

Get an Instant Quote Online
or Call Pets Best at 877-738-7237
—
This article has been adapted from its original version in Arden's book, The Cat Behavior Answer Book.