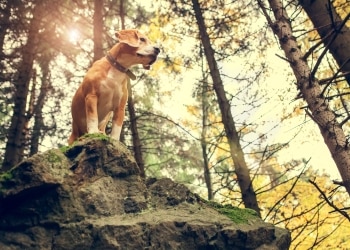 By Therese Pope, a freelance writer for Pets Best, a nationwide dog health insurance agency since 2005.
Not only is hiking great exercise for you and your dog, but it's a special way to bond with your beloved pet while enjoying nature together. However, it's important to keep the safety of your pet in mind at all times. Just like humans, dogs tire easily and can be at risk for heat stroke, especially on a hot day. Trail hazards such as steep, uneven terrain and aggressive wildlife can be dangerous for pets. Here are five tips to consider before you head out on your next hiking adventure:
1. Make sure dog is healthy enough to hike
Use your best judgement and leave pets at home that aren't a good fit for hiking. Remember that not all dogs based on their breed, size, personality or age, make suitable hiking companions. Hiking is a strenuous activity that should not be undertaken by dogs that can't handle rigorous activity.
If you want your pooch to carry part of the hiking load, prepare him or her well in advance. Start with carrying lighter packs on their back and take short walks and then build up to heavier loads. For dogs in top physical condition, they can carry up to 25 percent of their body weight.1 Check with your vet first and make sure your dog (especially if he's small) is physically healthy enough to hike and/or carry a pack.
2. Keep dogs on a leash and stay on designated trails
Verify that dogs are permitted on hiking trails. Most national and state parks do not allow dogs.2 When mapping out your hike, research online or contact the managing agency and ask if their trails are dog-friendly. Even if dogs aren't required by law to be on a leash, it's a good idea to keep them leashed for their own protection.
When hiking, be respectful of other hikers and dogs and don't stray from designated trails. Make sure to keep an eye on your dog and don't let him or her wander off. Between wild animals and poisonous snakes and plants, keep dogs safe by keeping them close to your side.
3. Take frequent rest breaks
Make sure to stop frequently along the trail and bring along plenty of food, treats and water for your dog. Do not feed dogs right before or after hiking because they could get sick. Feed them at least one hour before or 30 minutes after hiking.3
It's especially important to keep dogs safe around water sources. Don't allow dogs to swim in or drink from unsafe water, because they could become ill due to harmful parasites or algae in the water.4 If you hike in remote areas and don't have access to safe, clean water, pack plenty of bottled water or bring along a portable water purifier.
4. Be courteous and pick up after your dog
Respect the environment and your fellow hikers by picking up after your dog along hiking trails. Use pet waste bags and throw them away in trash cans or safely bury pet waste at least 200 feet away from trails, water sources and campsites.5 Some hiking trails provide biodegradable dog waste bags or you can buy them at a pet supply store.
5. Pack plenty of supplies
Be well-prepared for your hike and pack the following supplies for your dog:
•Food and treats
•Safe drinking water
•Collapsible food and water bowls
•Leashes
•Disposable waste bags
•Pet first aid kit
•Pet insect repellent
•Protective dog clothing and booties
References
1 https://www.rei.com/learn/expert-advice/hiking-dogs.html
2 http://www.outdoors.org/articles/amc-outdoors/trail-dogma-national-state-and-amc-rules-for-hiking-with-dogs/
3 https://www.sciencedaily.com/releases/2009/09/090908125132.htm
4 http://www.hikewithyourdog.com/styled-30/page156/page24/page24.html
5 http://www.appalachiantrail.org/home/explore-the-trail/leave-no-trace