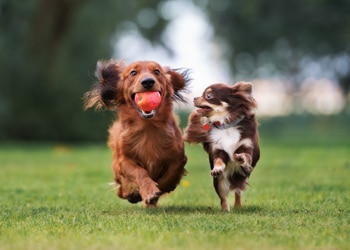 Many dogs are left home alone all day while we are at work. Lack of interaction for long periods of time like this may lead to excessive barking, disobedience, and stress in dogs. An alternative to leaving your dog at home during the day is to enroll him or her in Dog Daycare. Dog Daycare provides an opportunity for your dog to improve on many key skills. Here are five reasons to consider to enrolling your dog in daycare.
1. Interaction: Alone no more!
In the care of trained dog personnel, dogs are able to continue interacting with people while their owner is away. Having the opportunity to be in constant contact with people is a great benefit of Doggy Daycare.
2. Socialization: Doggy Friends for Life
Unique to Doggy Daycare, is the ability for dogs to meet and play with other dogs. This can be beneficial to young dogs as it will allow them to develop their social skills. Also, since dogs are social animals by nature, they will love having the opportunity to play with other dogs.
3. Exercise: Fit as a Fiddle
Most Doggy Daycare centers have activities scheduled throughout the day that will help keep your dog stimulated. Activities may include ball-fetching, chasing games, wrestling and tunnel running. Depending upon the facility, dogs may rotate between indoor and outdoor activities. There are also rest times built into each day to ensure that your dog regains his/her energy.
Read More: What is Pet Insurance?
4. Training: Supplemental Dog Education
Maybe your pup needs a bit more training. Some Doggy Daycares are able to supplement the training you do at home with additional lessons during the day. Continual reinforcement of behavior training can help your dog retain what they are taught. There are even daycares that will teach your dog new tricks!
5. Your Peace of Mind
Most importantly, Doggy Daycares can give you peace of mind knowing that your dog is well cared for during your working hours. From interaction with people to socializing with other dogs, you can be sure that there is never a dull moment for your lovable pup.
Keep in mind that you'll need to choose the Doggy Daycare that is the best fit for you and your dog. So do a little research and ask around for referrals to the best Doggy Daycare in town.