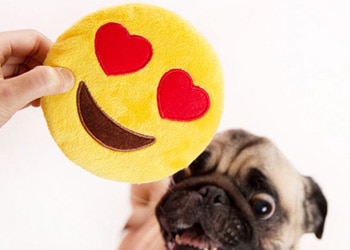 By Therese Pope, a freelance writer based in California. Pope writes for Pets Best who offers pet health insurance plans for dogs and cats across the U.S.
Valentine's Day is right around the corner! Show your love and affection by spoiling your furry or human valentines' on February 14. These fun, heartfelt gifts will make happy tails wag and put a big smile on the face of your favorite human who loves pets.
1. Valentine-Themed Toys
A valentine-themed toy is always a great option for your dog or cat valentine.
The online store, Bark Shop has several cute options. They have heart-shaped squeaker toys that look like the candy hearts with embroidered sayings like, "sniff me." They also have chew toy ropes in the shape of hearts. Lastly, for those emoji fans, they have a squeaker toy in the shape of the emoji smiley face with hearts for eyes. Shop online at Barkshop.com.
Ore originals is another great online store with products for pets as well as products for humans that are pet-themed. For dogs, check out the heart shaped "I Woof You" squeaky toy. And for cats, they have a pounce toy with a heart shaped toy at the end of the string that says, "Meow." Visit their shop at oreoriginals.com.
Photos below.
2. Heart Design Collars, Clothing & AccessoriesRead More…