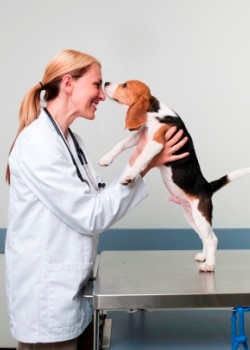 By Therese Pope, a freelance writer based in California.
As quality veterinary medicine becomes more advanced so does the rising cost of medical care for pets. Active pets, especially energetic puppies and kittens, are more likely to become injured; while illnesses and disease can affect pets of all ages. These unexpected trips to the vet can lead to expensive bills that take a big chunk out of your wallet.
As a result, proactive pet owners are now taking advantage of cost-saving pet insurance. According to the North American Pet Health Insurance Association's report, 1.4 million pets were insured in 2014. By enrolling in pet insurance, you have peace of mind that your pet's medical needs are well taken care of and you don't have to worry about costly vet bills.
What's Covered
Pet insurance companies offer a wide variety of plans to fit your pet's coverage needs as well as your budget. Before signing up for a plan, carefully read the fine print and make sure you know what's covered in your policy. Plan prices are based on a variety of factors including the coverage offered, as well as the pet's age, location, and animal breed.
Pet insurance plans offer coverage for accidents and illness. Examples of accidents include broken bones, foreign object ingestion, and lacerations; while examples of illnesses include cancer, allergies, diabetes, and arthritis. Some plans may include emergency care, surgery, hospitalization, and hereditary and congenital conditions.
A few companies offer routine care plans to cover annual wellness visits, vaccinations, teeth cleanings, and so on. However, routine care plans are technically not considered pet insurance.
Pre-Existing Conditions Are Not Covered Read More…