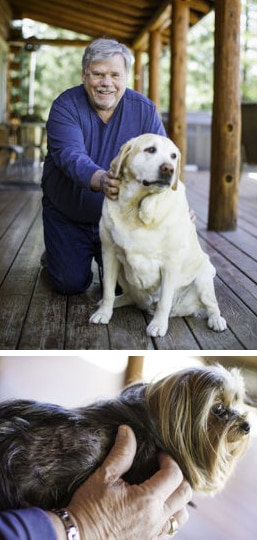 A yellow Labrador retriever named Dakota has been credited with saving the life of his Yorkie buddy, Cory, in Idaho this week.
According to pet owner Steve Groves, Dakota ran into an area where he spotted a hawk flying overhead on Tuesday morning, He realized Cory was nowhere to be found on his 10-acre property, and seconds later, the hawk flew away and both dogs returned home.
Cory, the Yorkshire terrier, had cuts on both sides of his body, indicating a large bird had swooped down to try and make a meal of him. He received immediate veterinary care and stitches to stop the bleeding.
Groves told the Coeur d'Alene Press, "Our dogs are very protective of each other. If it wasn't for Dakota, we wouldn't have Cory. Even if the hawk didn't get Cory off the ground, it would have eaten him there."
Groves added that hawks have been watching his property for rodents, but this is the first time any of their dogs have been attacked. He typically keeps a closer eye on Cory due to coyotes in the area.
Wednesday, Cory chose to stay close to home. As for a reward, Groves explained, "There won't be a special reward [for Dakota] because she's rewarded every day. They can't be more spoiled than they are."
Pets Best Insurance offers dog insurance plans with no breed restrictions and no upper age limits. Injuries due to attacks by other animals are covered under our regular and accident-only plans.
Photos: Shawn Gust
Subscribe to Our Free Monthly eNewsletter