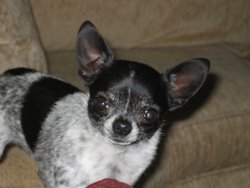 By: Dr. Jack Stephens
Pets Best Insurance President and Founder
Last week Torrey and I visited the Western Veterinary Conference (WVC) in Las Vegas, Nevada to tout the benefits of pet insurance. There were nearly 10,000 veterinarians and technicians in attendance gaining their required continuing education, as well as hundreds of lectures on diseases, treatments, surgery and diagnostics for animals. There was also a huge exhibit hall displaying a variety of products, services, and diagnostic equipment for veterinarians.
This was the fifth conference Torrey has attended. She assists the Pets Best Insurance staff in our booth and helps promote pet health insurance to veterinarians and hospital staff. She has the distinction of being the smallest attendee at the conference. She enjoys walking the exhibit floor and looking at the products and technology available for pets. This time we were struck by the increased costs of all the new technology and products that were not available when I had my companion pet practices.
For instance, MRI's were once only available only for humans. The access for pets was limited to a few veterinary schools and some after hours or weekends when the MRI units were closed for humans. Later, a few used units became available for pets in larger metro areas. Now there are special smaller MRI units being produced especially for pets.
MRI's can diagnose disease and abnormalities that normal radiographs (x-rays) can miss. However, they are expensive. A typical pet unit can cost from $200,000 to $400,000, and a single MRI diagnostic session for a pet is around $800 to $1,000. Over time this cost will be reduced as more pets have access to the technology—but for now a pet MRI is still very costly.
At the conference we also were surprised to learn the cost of digital radiograph can be $100,000 or higher. Of course digital radiographs, just like your dentist may use, are faster and produce better resolution than the old fashion way. Digital radiography is also easier on the pet because it doesn't require as much restraint, which can ease the pets' stress level.
Because the cost of treating pets with expensive equipment can drive the vet bill up, it often becomes a huge financial burden on the pet owner. Pets Best Insurance plans will leverage pet owners' finances for pet care by nearly 5X when we pay 80% after the deductible. With Pets Best Insurance, that $1,000 MRI can cost you $200 because of our flat rate reimbursement model. With pet insurance there is peace -of-mind knowing you can afford the best in diagnostics should your pet need an MRI or other costly diagnostic procedures.