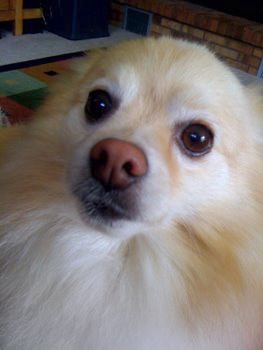 Dr. Marc is a dog dad of two, and a veterinarian guest blogger for dog insurance provider, Pets Best.
As a veterinarian, it is important to be able to relate with your clientele and patients not just on a professional level, but on a personal level as well. In part, this is why I've decided to write a blog about a medical case that involved my own dog, Tulah.
What happened and how did it start?
For the Christmas holiday in 2012, we had my wife's family visit from another state and spend 5 days with us. As is traditional for our family, we had lots of snacks and good food for the season. On the second day during their visit, my little Pomeranian (Tulah) vomited. For her, this is very uncharacteristic. Furthermore, it was not just a little bit of spew, but several cups all over our couch. She seemed to be acting normal and eating ok so we were hopeful that the problem wasn't serious. Over the course of the next 24 hours, she became lethargic and continued vomiting to the point that she couldn't hold any food down at all.
Off to the vet clinic with her dad…

Knowing that Tulah had some serious ailment, I took her into my veterinary clinic. After running a blood panel, completing x-rays, and even performing a barium study (an x-ray dye study to watch how her intestines are moving), I concluded that Tulah had an intestinal obstruction. It appeared that the obstruction was completely blocking the passage of any materials in the upper part of her intestinal tract. Unfortunately, this condition can only be solved surgically.

Get a Quick, Free Quote Online or Call Pets Best at 877-738-7237
The whole extended family debated on what she could have possibly eaten, everyone a little worried that it may have been their fault. Surgery was performed and went well. The culprit was a pistachio, which had been accidentally dropped by my mother-in-law the day prior.
How is Tulah now?
Surgical recovery went well and Tulah is back to her normal self. In all of my time as a veterinarian, I have never removed a pistachio surgically that caused a complete obstruction. It served as a good reminder that something as small and unexpected as a pistachio can cause huge problems for dogs. The total cost for x-rays, blood work, a barium study, corrective surgery and medications was close to $2,000.00. This is why it is so important to have a financial plan in place, as the pistachio would have caused my dog's death had we been unable to treat her surgically. For this reason, I can personally see the importance of why pet insurance plans are important to offset some of the costs incurred by any unexpected occurrence, including a $2,000 nut.
Learn why clients love Pets Best in these pet insurance reviews.
Subscribe to Our Monthly Free eNewsletter