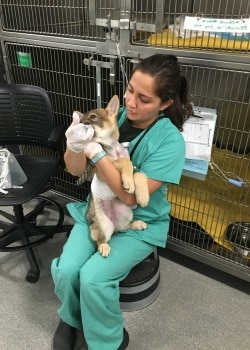 At Pets Best, we believe the veterinary industry is empowered by the many certified veterinary technicians who, through their hard work and dedication, make a difference in the lives of their patients each and every day. We created the Why I Love Being a Vet Tech contest to acknowledge their tireless efforts. In partnership with the National Association of Veterinary Technicians in America (NAVTA), we are pleased to announce this year's top eight finalists.
Meet Marissa Beauvais, a Licensed Veterinary Technician and graduate of Michigan State University. She recently moved to California to join the SAGE Centers for Veterinary Specialty and Emergency Care.
Outside the clinic, you can find Marissa at the gym. She's a self-professed fitness junkie and has recently gotten into Olympic weightlifting. She recently made a cross-country trek to California and enjoys exploring her new area and visiting San Francisco with her friends and boyfriend.
While Marissa doesn't have any of her own pets, she treats all of her patients as if they are her own. For her, a major benefit of being in veterinary medicine is that all day she gets to experience the love that pets can give.
Read on to learn more about Marissa and her contribution to the veterinary community.
Why did you choose to become a vet tech?
I have been an animal person my entire life. Growing up in a house full of pets, it was easy to learn about new animals and the care involved with them. When I reached college, I struggled over whether or not to go into veterinary medicine. I had a plethora of different majors before I started volunteering at the local humane society in the veterinary spay/neuter area. Then it was game over. I fell hard for veterinary medicine after meeting the vet tech there who taught me about the technician profession and what I could expect.
Why do you love being a vet tech?
Today, during one of five scheduled euthanasias, I got the chance to make a difference. A family with two young children (eight and five) came in to have their 13.5-year-old Lab euthanized. The parents had agreed that the kids wouldn't stay, but someone had to stay with them. The dad was going to stay with the doctor while the mom was going to stay with the kids, but the mom was brokenhearted that she couldn't spend the last moments with her first baby. As she was leaving the room, I couldn't help but offer to spend time with the kids while she stayed with her dog. It's not a job requirement for me to care for my client as much as the pet, as I am the patient's advocate. However, I couldn't let my client live the rest of her life thinking she left her best friend in the last moments of life. I spent the next few moments talking to the kids, keeping them occupied and calm while their parents were with their pet. That's why I love being an LVT—I get to be compassionate and caring on a daily basis. I get to make a difference in both animal and human lives. I get to perform tasks that I'm good at and I get to educate people.
If you could improve upon or change one thing about the veterinary industry, what would that be?
There are a few things I would change but the most prevalent thing that's been a pressing topic lately is compassion fatigue and how tragic it can be. We are losing far too many precious colleagues to suicide at the expense of compassion fatigue and feeling that you're failing your patients. People in veterinary medicine need to be better at detaching themselves from work.
Does your clinic talk to clients about pet insurance?
Pet insurance is definitely helpful when purchased at the right time. When I worked in general practice, I would speak with every new pet parent about the pros and cons of pet insurance. Now that I'm working in emergency medicine, it's good to see pet parents who have purchased emergency coverage for their pets because in an emergency situation, you don't want to have to think about how you are going to pay or how much you're willing to pay for your pet's life.
–
We invite you to stay tuned to our blog, where we will share in-depth Q&A sessions we held with the remaining finalists. (You can learn more about the Why I Love Being a Vet Tech Contest here.) The contest winner will receive a one-year NAVTA membership and a paid trip to the 2017 North American Veterinary Community Conference. You may vote here for Marissa or any of the other finalists once a day through Thursday, October 6th.