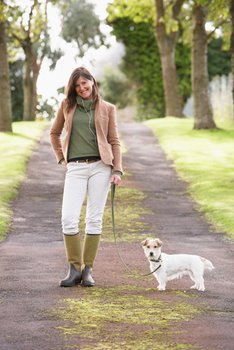 Any good pet owner probably knows the basics when it comes to pet health and care– whether it's selecting the most nutritious food, insuring a pet with the best pet insurance policy they can find, or ensuring a pet gets his proper daily exercise.
But when the hefty task of finding the perfect professional pet sitter is narrowed down to the top dogs, the real work begins. Hiring a professional sitter may offer some assurance that those with a set of house keys are trustworthy, but unfortunately that isn't always the case.
Ask Dog Lady is a nationwide newspaper column written by Monica Collins. A September column featured a question from a reader named Helena, who had had a bad experience with her pet sitter.
"I thought it was working well until I discovered some gold jewelry missing," wrote Helena. The company she hired had sent a student to her home to perform the dog walking service. The student sold some of her jewelry to a gold broker, who melted down the gold before it could be recovered. In the end, the pet sitting company only compensated her with a new door lock. Chances are the company had no bond and did not carry pet insurance for sitting services, or the total value of the jewelry would have been repaid.
Who Will the Pet Sitter Be?
Those interviewing potential pet sitters should ask to meet the actual sitter who will be visiting the home. It's important that household pets meet the sitter in the presence of their owner, so that the pet understands the sitter is not an intruder when the first visit occurs. Also, a respectable pet sitter will not bring friends or family along on a visit without prior approval.
What Time Will the Pet Sitter Visit?
If pets are fed, walked, or medicated at strict times, this should be brought to light in the initial consultation. Some pet care providers don't go into homes after dark, and others charge additional pet sitting fees for visits after a certain time. Sitters should provide detailed notes to let the owner know what time they will arrive and depart.
Talk to References
References are of no use unless they are actually contacted. Prepare questions for the client to answer to avoid a canned, on-the-spot answer. Did the sitter leave detailed notes? Did the sitter call if there was a problem? Did the sitter pick up after dogs and leave the home in a clean condition?
Different clients expect different things from their animal care providers, so make sure a sitter can provide you with what YOU look for in a service provider.