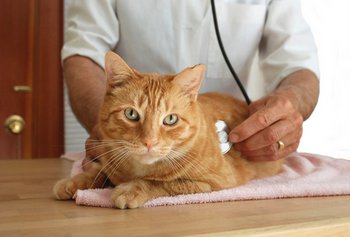 Percy is one of our three beloved mutts. He was on his last legs at the local shelter, so we adopted him with the full knowledge that he was very wild and active, and had already been returned three times to the shelter.
As a veterinarian, I felt well equipped to handle his various wounds, daily accidents, the sutures, the upset stomachs and the ear infections. But when he needed intensive surgical intervention, I did not want to operate on my own dog. In the last five years, pet insurance has covered his six broken teeth (which needed root canals), his bloat surgery, his liver biopsies, his ultrasounds and his corn-cob-eating and subsequent surgery.
Cats tend to be a little less accident prone, but they are also very good at not showing us that they are ill until it is pretty bad– which is why it's a great idea to look into cat insurance (even for indoor cats) early on. They do not whine like Percy does when he's not well! As a cat owner I can testify– they get lots of exams, blood testing, and weight checks to catch any problems before they are irreversible. Cats are so amazing that I have even seen blind cats that are able to get around so well the owners didn't even realize they were blind. I've also seen cats with broken bones that didn't act like they were in pain, (but of course they were!) I've also seen cats with rotting and abscessed teeth that were still eating fine, and cats whose kidneys had been failing for years without any signs that the owners could see. Our feline friends need the same care our dogs get, but will not tell us that they need help as readily. This is one of the reasons I recommend cat insurance as well.

Or Call 877-738-7237 to speak with a Pets Best Agent to Add a Pet to Your Policy
Cat and dog insurance can be very important for cats because they do tend to hide their problems until they are pretty sick. I volunteer for several cat rescue groups, and some of the cats have been relinquished to the shelter or group because the previous owner could not afford treatment. These are the cases that are extremely sad, because we know the cat was very well loved, and that it will likely be hard to find the cat a new home due to its medical problems. (That is why I have eight rescued cats!)
As long as pet insurance plans are purchased before an illness occurs, pet insurance for cats may help cover everything from exams, diagnostic radiographs, bloodwork, surgeries, medications and treatments, specialist visits, and geriatric (older cat) care.
So when contemplating whether cats are generally healthier than dogs, I feel in full disclosure I have to mention our young cat Tori who is currently being watched very carefully for signs of ingesting string. We suspect she ate some dental floss a house guest left out by accident. Fingers crossed, she is fine so far! But if she stops eating, vomits or seems weak, she will get an ultrasound and radiographs right away. Again, hence the importance of pet insurance plans! You never know when you might need it and it can certainly come in handy.