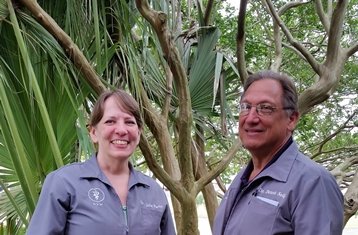 How much do you love your vet? In 2010, Pets Best developed the My Vet's the Best Contest—the first of its kind—to allow pet owners to acknowledge veterinarians around the nation for outstanding service and compassionate care. May kicks off our first contest of 2016, and we've again received hundreds of submissions. As we announce this round of finalists, we're pleased to see the tremendous impact veterinarians are making in their local communities. Meet Drs. Selig and Parks, who are two such individuals.
Drs. Dennis Selig and Julie Parks both practice at Northwood Hills Animal Hospital in Gulfport, Mississippi. Dr. Selig obtained his veterinary training at LSU School of Veterinary Medicine, and Dr. Parks received her degree in veterinary medicine from Mississippi State University. Both veterinarians focus on year-round pet health, prioritizing good nutrition, exercise, and problem prevention.
During Hurricanes Katrina and Rita, Dr. Selig sent his family to safety, then stayed at the clinic—located just 12 miles north of the beach—with 50 boarded animals. His policy is to remain at the clinic during such circumstances. In an interview with DVM360 Magazine, he recalls "white-knuckle moments" when he could hear shingles and tarpaper ripping away from the building. Overall, the animals "handled the banging of metal and falling trees much better than I did," he says. After the storms, local and veterinary communities were touched by Dr. Selig's kindness and self-sacrifice, and offered an outpouring of support, prayers, and compassion. In the years that followed, business has pretty much returned to normal, but the Northwood Hills Animal Hospital forever made an impact on its community.
In their free time, both vets enjoy spending time with their "furry—and not so furry—family and friends," says Dr. Parks. She also enjoys gardening and repurposing old treasures. Dr. Selig enjoys travel, reading, and horticulture. Read on for our Q&A with Dr. Parks and Dr. Selig.
What do you enjoy most about being veterinarians?
We enjoy being part of a team with the owner/caretaker to ensure the pet lives a long, happy, and healthy life. We really treasure the time we spend with the pet parents because we understand that, without them, the pets couldn't fend for themselves.
What makes you both unique in your field?
We spend a lot of time communicating with our clients. In our fast-paced world of technology, more and more clinics delegate client communications to the staff members.
Do you talk to your clients about pet insurance?
Our clients routinely ask us about pet insurance and we explain how it works compared to human health insurance. We encourage them to seek coverage that not only covers catastrophic illness but preventive wellness, which is key in pet health care.
What does it mean to you to be nominated for this award?
It means the world to us. It gives us feedback that our clients care about us as much as we care about them.
What would you like to say to your clients and community who nominated and voted for you?
A HUGE heartfelt THANK YOU! Without you we would not be here!
If you win the contest with the most votes, how do you plan to use your $1,000 prize?
We would use it to offset costs incurred by financially challenged clients, especially those whose pets have ongoing illnesses.
Fun Pet Fact:
Dr. Parks owns several pets, including a number of bed-hogging Dachshunds ranging in age from 1 to 14 years old. Fletcher is a 17-year-old half Maine Coon cat who spends her days on the sofa and "keeps the dogs in line as needed."
Dr. Selig's pets include Chester, a 13-year-old Tabby cat that loves to "talk", cuddle, and supervise the fish tank. His Dachshund, Andouille, is aptly named for the Cajun sausage she resembles. She is quiet and can always found near a warm blanket.
If you enjoyed reading about Drs. Parks and Selig, stay tuned to our blog, where we will share in-depth Q&A sessions we held with the remaining finalists. Learn more about the My Vet's the Best Contest by clicking here. You may vote for Drs. Parks and Selig or any of the other finalists once a day through Thursday, May 19th, 2016 on the Pets Best Facebook page.