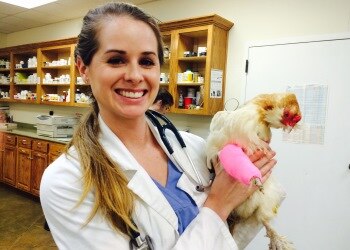 How much do you love your vet? In 2010, Pets Best developed the My Vet's the Best Contest—the first of its kind—to allow pet owners to acknowledge veterinarians around the nation for outstanding service and compassionate care. We've again received hundreds of submissions for our second contest of 2016, and are pleased to announce our latest finalists. Once more, we're pleased to see the tremendous impact veterinarians are making in their local communities. Meet Dr. Summer Zulli-English, who is one such individual.
As early as after graduating from high school, Dr. English worked at Animal Health Clinic in Picayune, Mississippi. She then began undergraduate studies at Pearl River Community College, finished her degree in Biology at the University of Southern Mississippi, and received her Doctorate in Veterinary Medicine from Mississippi State University.
When she is not working at Animal Health Clinic, Dr. English spends time with her husband and her five pets. She also enjoys finding herself "a little alone time with a blanket and a good book." Read on for our Q&A with Dr. English.
Why did you decide to become a veterinarian?
Like most vets, I wanted to be a veterinarian as a child. I always bonded with any animal I came into contact with.
What do you enjoy most about being a veterinarian?
I most enjoy being able to educate clients about how to keep their pets healthy and prevent disease.
What makes you unique in your field?
I believe I am unique because I am my genuine self in the exam room. I am not afraid to hug, comfort, or cry with my clients.
Do you talk to your clients about pet insurance?
Not with every client. Typically, after a client has shown interest in pet insurance. We keep pet insurance pamphlets in the lobby.
What does it mean to you to be nominated for this award?
It is such a compliment. I am thankful to have wonderful clients who appreciate the work we do.
What would you like to say to your clients and community who nominated and voted for you?
I would like to say thank you. It is a joy to be able to do this job. I hope to keep doing this job to better the human and animal bond.
If you win the contest with the most votes, how do you plan to use your $1,000 prize?
I would love to use it to start a fund to help our patients get the care they need when their owners can't afford to.
Fun Pet Fact:
Dr. English's five pets include three dogs: Abby, the Chihuahua; Chester, a rescued Chinese Crested that came from a hoarder home; and Odie, a mutt she adopted from the SPCA. She also has two cats: Bran, the tiny, malnourished kitten with an abnormal front leg that had to be amputated—which Dr. English brought home after a spay and neuter rotation her last year of vet school; and Whiskey, another special case—she suffers from cerebellar hypoplasia. "But this does not hinder her in the least bit," says Dr. English.
If you enjoyed reading about Dr. English, stay tuned to our blog, where we will share in-depth Q&A sessions we held with the remaining finalists. Learn more about the My Vet's the Best Contest by clicking here. You may vote for Dr. English or any of the other finalists once a day through Thursday, July 28th, 2016 on the Pets Best Facebook page.