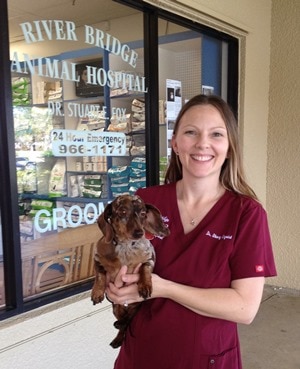 How much do you love your vet? In 2010, Pets Best developed the My Vet's the Best Contest—the first of its kind—to allow pet owners to acknowledge veterinarians around the nation for outstanding service and compassionate care. May kicks off our first contest of 2016, and we've again received hundreds of submissions. As we announce this round of finalists, we're pleased to see the tremendous impact veterinarians are making in their local communities. Meet Dr. Oquist, who is one such individual.
Pursuing her interest and love her animals, Dr. Stacy Oquist graduated from Ohio State University with her degree in veterinary medicine. She then moved to Florida to be closer to her family, and embarked on the next stage of her veterinary career. She now practices at River Bridge Animal Hospital.
When not at the veterinary clinic, Dr. Oquist says her children keep her quite busy. "I have two toddlers at home. What is free time?" she jokes. She tries to stay active in other ways, too, and enjoys the beach, biking, scuba diving, and running. Read on for our Q&A with Dr. Oquist.
What do you enjoy most about being a veterinarian?
I love helping pets and people and I enjoy educating people on pet care.
What makes you unique in your field?
I truly find passion in every aspect of the field from behavior to end-of-life care. Every aspect of medicine is important for providing well-rounded care. I greatly respect the human-animal connection that bonds people to their beloved pets.
Do you talk to your clients about pet insurance?
We try to talk to all clients about it.
What would you like to say to your clients and community who nominated and voted for you?
It means a lot to me to know I made a positive impact on their life and on the care of their pet. I am incredibly honored that they took the time to [nominate me].
If you win the contest with the most votes, how do you plan to use your $1,000 prize?
I will donate it to A Second Chance Puppies and Kittens Rescue. We do a lot of work with them and I respect their mission. I would also treat my staff to lunch!
Fun Pet Fact:
Dr. Oquist's way with animals may run in her family. "I used to have a cat, but she moved in with my parents and they refuse to give her back," she says. So now she devotes her attention as a pet mom to her dog, Pebbles. "Both pets are very spoiled and happy," she says.
If you enjoyed reading about Dr. Oquist, stay tuned to our blog, where we will share in-depth Q&A sessions we held with the remaining finalists. Learn more about the My Vet's the Best Contest by clicking here. You may vote for Dr. Oquist or any of the other finalists once a day through Thursday, May 19th, 2016 on the Pets Best Facebook page.