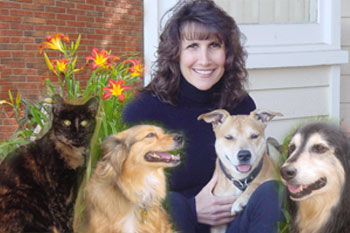 How much do you love your vet? In 2010, Pets Best developed the My Vet's the Best Contest—the first of its kind—to allow pet owners to acknowledge veterinarians around the nation for outstanding service and compassionate care. May kicks off our first contest of 2016, and we've again received hundreds of submissions. As we announce this round of finalists, we're pleased to see the tremendous impact veterinarians are making in their local communities. Meet Dr. Hershman, who is one such individual.
At just four years old, Stacey Hershman knew she wanted to be a veterinarian. As a child, she would pick up wounded animals—cats, dogs, birds, or frogs; it didn't matter—and take them home to nurse them back to health. "Saving the life of an animal is the most heartwarming and rewarding gesture a human being can [make]," she says.
After graduating with her degree from the University of Georgia's College of Veterinary Medicine, she attended continuing education courses with the Veterinary Emergency and Critical Care Society to gain additional knowledge and skills. She later worked at emergency hospitals for 14 years and as a volunteer shelter vet, where she eventually became frustrated by her inability to cure chronic diseases (like skin allergies) with conventional medicine. She discovered a book written by Dr. Richard Pitcairn, a veterinary professor of immunology, and was inspired to pursue veterinary homeopathy and coursework in veterinary acupuncture to better help her patients.
While working in emergency hospitals, Dr. Hershman started the first holistic veterinary house-call practice in the Northeast, traveling hundreds of miles throughout New York, New Jersey, New York, and Connecticut. For ten years, she amassed a following of holistic patients. In 2007, she found a place to hang her sign—a building in Hastings on Hudson, New York, where she now runs a full-service animal hospital. Natural Vet for Pets P.C. offers holistic and conventional medicine, surgery, dentistry, x-rays, and emergency medicine. Today, Dr. Hershman is one of 500 veterinarians in the U.S. to be certified by the Academy of Veterinary Homeopathy, and she's also certified by the International Veterinary Acupuncture Society.
When Dr. Hershman isn't practicing veterinary medicine, she spends time with her family, friends, and pets. She also enjoys outings to the park, the beach, and out to dinner or the movies. She also loves to travel and learn about other cultures, and has been to France, Spain, Italy, England, Scotland, and Australia. Read on for our Q&A with Dr. Hershman.
What do you enjoy most about being a veterinarian?
[I enjoy] helping animals heal and be healthy again, and educating their pet guardians how to give them natural nutrition and treatment that is safe, all while avoiding side effects of drugs and chemicals and over­vaccination. I also enjoy teaching children how to be compassionate, how and why we should rescue homeless animals, why they need medical care, and that animals in shelters need families to adopt them.
How else do you educate people?
I teach families how to prevent overpopulation and spread of disease by spaying or neutering their pets, and that shelter and homeless animals all deserve loving, forever families. I try to educate pet owners not to buy dogs from pet shops or online breeders who are brokers for horrific puppy mills and to rescue animals that may be in a kill shelter or homeless, suffering on the street without shelter in the wintertime.
I also enjoy teaching pet guardians how to feed their pets natural foods meant for
carnivores, so I explain in detail nutrition involving a raw meat diet, canned foods without meat by­products and artificial ingredients, and healthy homemade diets. I see amazing changes in animals when they eat the right food—like shinier hair-coats, hair growing back, change in hair color back to normal, weight loss to normal weight, no more chronic diarrhea or vomiting, and no more finicky eaters. It is so rewarding to get a great big hug and thank you from a client who was so frustrated in the past and so happy since their dog or cat is healthier and happier too.
What motivates you?
I have a natural affinity to heal all helpless and wounded animals. As an emergency vet for over 14 years, I treated the most difficult cases where animals were critically ill or injured and sometimes you had seconds to figure out what to do to save their lives. I loved working nights and being challenged with the most stressful cases. To look into an animal's eyes and see them suffer just motivates me to help save them and do the best I can and not give up until everything possible is done.
If I'm driving home or walking around and I see a stray, homeless cat, for example, I have to set up a trap and make sure it is not sick or injured. And if it needs medical attention, I will help it and try to find it a home. It just feels natural to do what I do.
Do you talk to your clients about pet insurance?
Absolutely. Daily I recommend health insurance and explain [that], when I was an emergency vet, the bills could be quite high since after-hours and specialty hospitals have to charge more money to cover their expenses.
What would you like to say to your clients and community who nominated and voted for you?
Thank you for your kind thoughts and heartwarming letter. I cried when I read it and couldn't believe it was about me. I don't like to bring attention to myself, especially when it comes to being a vet. I was so touched and honored to be chosen and was at first not sure why, since I am just doing what comes natural. I never did expect any awards for my work. Being a vet is not just a job; it is my calling… I could not imagine any other career that I would pursue.
If you win the contest with the most votes, how do you plan to use your $1,000 prize?
I will use the money for medical treatments needed for homeless, stray kitties I trap or rescue and who live in my vet hospital until they can have the forever, loving homes they deserve. In the past eight years, I have rescued and found homes for over 200 cats, mostly those living in dirty alleys and on the streets without food or shelter. Many kittens in the neighborhood were dying from flea-bite anemia and feline viruses, and mama cats were dying of viruses and heavy infestations of intestinal parasites and malnutrition from having too many litters when emaciated and unhealthy. It was so heartbreaking. Finally, I realized I had to start trapping these stray cats and kittens, clean up the neighborhood, and educate people not to just feed stray cats but to trap them since they needed medical attention. The residents and animal lovers of Hastings on Hudson have noticed a huge difference and are very grateful for the volunteer work I do and understand that stray cats [that] are not rabies vaccinated are a public health concern, especially to their children and their own pets.
Fun Pet Fact:
Dr. Hershman enjoys relaxing at home with her rescued and "dearly loved" pets: pit bulls that were previously abused, and several cats she adopted after they were abandoned on the streets or unwanted by elderly clients she met during pro-bono visits to senior housing developments. "I cannot euthanize a young animal that is treatable, so I adopt some handicapped pets since I know I can give them the best daily medical care to make them healthy and happy in a safe, loving home," she says.
If you enjoyed reading about Dr. Hershman, stay tuned to our blog, where we will share in-depth Q&A sessions we held with the remaining finalists. Learn more about the My Vet's the Best Contest by clicking here. You may vote for Dr. Hershman or any of the other finalists once a day through Thursday, May 19th, 2016 on the Pets Best Facebook page.