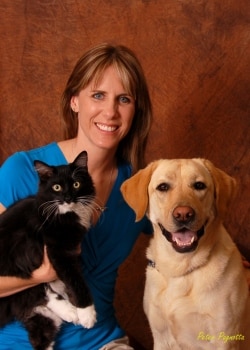 Do you know a veterinarian who has made a powerful impact on your fur family? In 2010, Pets Best developed the first-of-its-kind My Vet's the Best Contest — with the purpose of allowing pet owners around the nation to acknowledge these professionals for their outstanding service and compassionate care. Yet again, we've received hundreds of submissions for our final contest of 2016, and are pleased to announce the finalists. The stories that follow are a testament to the many ways veterinarians are making a difference, both in their local communities and beyond. Meet Dr. Marnie Duplissis, our sixth finalist.
Before receiving her degree in veterinary medicine, Dr. Duplissis began working as a veterinary technician at McClintock Animal Care Clinic in Tempe, Arizona. She then obtained her Bachelor's Degree from Arizona State University and her DVM from Colorado State University, then returned to her former clinic in 2001 to practice veterinary medicine. Her professional interests include dermatology and internal medicine.
In her free time, she co-coaches a softball team and enjoys exercising, cooking, and spending time with her husband and two children. Read on for our Q&A with Dr. Duplissis.
Why did you decide to become a veterinarian?
I decided to become a Veterinarian after getting my first dog on my own and starting to work with my now boss when I was in college. I saw how amazing she was with clients and their pets and I wanted to help people like I saw her doing every day. She was the reason that I continued in this field and is the reason I have the job I have today. The care and compassion as well as the striving to do my very best each and every day comes from working with her and from watching her over the years.
What do you enjoy most about being a veterinarian?
I enjoy working with the clients and helping them care for their pets. I love to help the animals feel better and to provide comfort and guidance to the clients along the way. I especially love seeing the human-animal bond on a daily basis, there is really a great joy in watching how pets affect people in a positive way.
What makes you unique in your field?
What makes me unique is that I get to work with my mentor and role model as well as with two other awesome veterinarians and a fantastic support staff that makes my job fun and amazing. We all work together and help each other every day, which is why I get to be "unique". We have a fantastic clinic and we really strive to do our best and go above and beyond for each and every one of our clients.
Do you talk to your clients about pet insurance?
Yes! We talk to all clients about pet insurance and the benefits of having pet insurance.   We see the benefits of pet insurance each and every day and we feel it is important.
What does it mean to you to be nominated for this award?
It means a great deal to me that people took time out of their day to nominate me for this award. I am not one who likes being in the spotlight, but I know this is very important to them for me to be nominated for this award, and it is because of them that I am doing this.
What would you like to say to your clients and community who nominated and voted for you?
I would like to say thank you to all of the clients and community who voted for me. It really is an honor, and even more importantly, thank you all for trusting me to care for your pets. That is what makes this nomination so great is because it came from all of you. I am so thankful that I get to work in such a great field and that I have met so many wonderful people and animals along the way.
If you win the contest with the most votes, how do you plan to use your $1,000 prize?
If I win this contest I am actually not sure what I will do with the money, but I will make sure it helps animals in need. And because I wouldn't be who I am today without the support of the staff and the other veterinarians I work with, I will get their input on where the money goes to best help animals in need.
Fun Pet Fact:
Dr. Duplissis owns a nine-year old Labrador named Marbles, a seven-year-old tuxedo cat named Tico, a desert tortoise named Squirt, and a beta fish named red fish. "They also keep me busy in my free time, but they are the loves of our lives," she says.
If you enjoyed reading about Dr. Duplissis, continue to visit our blog, where we will share in-depth Q&A sessions held with the remaining finalists. Learn more about the My Vet's the Best Contest by clicking here. You may vote for Dr. Duplissis or any of the other finalists once a day through Thursday, November 17th, 2016 on the Pets Best Facebook page.