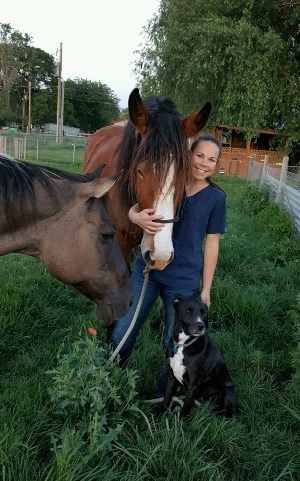 You likely know a veterinarian who has made a powerful impact on your family or in the community. In 2010, Pets Best developed the My Vet's the Best Contest to acknowledge these professionals for their outstanding service and compassionate care. Every year we receive hundreds of submissions from pet owners around the nation, and our first contest of 2017 is no different. We are again pleased to announce our finalists, along with corresponding stories that illustrate the many ways veterinarians are making a difference in their local communities and beyond. Meet Dr. Kelly Hollister.
Dr. Kelly Hollister attained her baccalaureate in Animal Sciences in 2011 and graduated top 15 in her class from the WSU College of Veterinary Medicine in 2014. While at WSU she received an Outstanding Senior Award and was a member of Phi Zeta (the honor society for veterinary medicine). She now practices at the Animal Hospital of Pasco in Washington's Tri-Cities region.
In her spare time, she enjoys working on the farm with her boyfriend, Jared, riding horses, hiking, dirt biking, and spending time with her family. Read on for our Q&A with Dr. Hollister.
Why did you decide to become a veterinarian?
I find the greatest joy in life when I am helping people. Also, I have always been an animal lover and I have always had a passion for medicine. Given that combination, there is no better career.
What do you enjoy most about being a veterinarian?
Everything. Every day is new with unexpected challenges and puzzles that I get to solve and people and pets that I get to help. What's not to love?
What makes you unique in your field?
I really like to cater to each person's individual needs. Every single person that comes into a clinic has a different goal. I like to evaluate these goals early so I can best accommodate each person's needs and find the most appropriate treatment path for that family. Everything I do is tailored for the people and pets that I am helping.
What does it mean to you to be nominated for this award?
This one is hard to put into words. It really feels great to know that I was able to impact someone's life significantly enough for them to nominate me for such a wonderful distinction. There is such fulfillment in knowing I have made their life a little better.
What would you like to say to your clients and community who nominated and voted for you?
I am deeply honored to have been nominated for such an award but I think the real award should go to the amazing team I work with day in and day out. Often times they go unnoticed when you visit the vet but they are all heroes who put so much time, effort and heart into everything they do behind the scenes.
If you win the contest with the most votes, how do you plan to use your $1,000 prize?
There are many families that we serve on a regular basis who lack financial resources to acquire even the most basic care for their furry companions. This prize would enable our team to provide much-needed care to families who are so deserving of a small break.
Fun Pet Fact:
Dr. Hollister says she has what some might call a small farm. Her pets include four cats, two horses, four turkeys, five chickens, two cows, and Romeo, a rescued dog she adopted while attending college and which now accompanies Hollister and her boyfriend on many of their outdoor expeditions.
If you enjoyed reading about Dr. Hollister, continue to visit our blog, where we will share in-depth Q&A sessions held with the remaining finalists. Learn more about the My Vet's the Best Contest by clicking here. You may vote for Dr. Hollister or any of the other finalists once a day through Thursday, June 15th, 2017 on the Pets Best Facebook page.