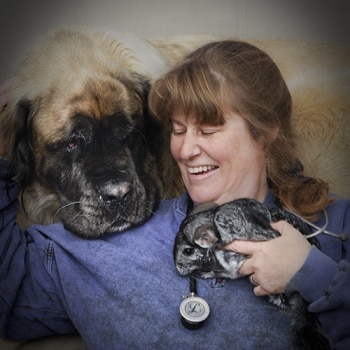 How much do you love your vet? In 2010, Pets Best developed the My Vet's the Best Contest—the first of its kind—to allow pet owners to acknowledge veterinarians around the nation for outstanding service and compassionate care. May kicks off our first contest of 2016, and we've again received hundreds of submissions. As we announce this round of finalists, we're pleased to see the tremendous impact veterinarians are making in their local communities. Meet Dr. Jane Johnson, who is one such individual.
Since her early years in the industry, Dr. Johnson's career path to becoming a veterinarian has come full circle. Before pursuing her formal education, she worked as a vet tech at Adobe Animal Hospital—the same clinic where she now practices full-time.
After her days as a vet tech, she obtained her bachelor's degree in chemistry, and later graduated from the UC Davis School of Veterinary Medicine. Dr. Johnson then spent a year of intense medicine and surgery during an internship at Animal Medical Center in New York City. Today, she is settled back in California where she now works as a veterinarian with a special interest in exotic animals, reptiles, small mammals, and internal medicine.
When she isn't spending time at the clinic, Dr. Johnson immerses herself in literature—reading "voraciously"—and is a patron of the arts. She has held tickets to the San Francisco Ballet for many years, and has recently become a fan of the opera. Read on for our Q&A with Dr. Johnson.
What do you enjoy most about being a veterinarian?
I enjoy interacting with people and their animals. I feel privileged that clients trust me with the lives and health of their family members, and I am challenged and intellectually stimulated to be a "disease detective" for patients that can't talk.
What makes you unique in your field?
I actually don't think I am all that unique. On the whole, I think my veterinary colleagues are intelligent, caring and compassionate. I think I may be a little more straightforward (some might say even too blunt!) than many, and I probably have a much larger chinchilla practice than most other vets.
Do you talk to your clients about pet insurance?
I try to talk to my clients about insurance when they first get a new puppy or kitten. These are exciting times in veterinary medicine and we are able to do so much for our patients. Insurance is so helpful in making sure people can afford the best care for their pets.
What does it mean to you to be nominated for this award?
I am so thankful and appreciative to my clients. I strive to be the be the best veterinarian I can be, and it is so gratifying to know that clients see that and that they are willing to take time from their busy lives to nominate me.
What would you like to say to your clients and community who nominated and voted for you?
I want to thank them all for the support, trust and love for all these years and I look forward to continuing our relationships in the future.
If you win the contest with the most votes, how do you plan to use your $1,000 prize?
I will use it to help people in need who cannot afford health care for their pets.
Fun Pet Fact:
Dr. Johnson's owns four pets, all with their own distinct personalities and energy levels. Her two dogs are five-year-old Bullmastiff "Frank" (a girl) and Jubal, an intelligent and energetic standard poodle inherited from Johnson's aunt. Her two cats are Sojo and Wasabi, a Siamese and an Oriental shorthair, respectively. "There is no sleeping in on the weekends at my house," she says.
If you enjoyed reading about Dr. Johnson, stay tuned to our blog, where we will share in-depth Q&A sessions we held with the remaining finalists. Learn more about the My Vet's the Best Contest by clicking here. You may vote for Dr. Johnson or any of the other finalists once a day through Thursday, May 19th, 2016 on the Pets Best Facebook page.