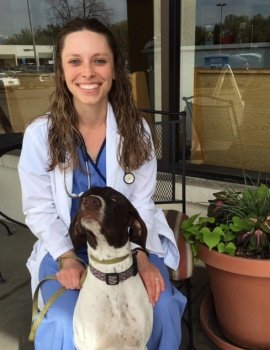 How much do you love your vet? In 2010, Pets Best developed the My Vet's the Best Contest—the first of its kind—to allow pet owners to acknowledge veterinarians around the nation for outstanding service and compassionate care. May kicks off our first contest of 2016, and we've again received hundreds of submissions. As we announce this round of finalists, we're pleased to see the tremendous impact veterinarians are making in their local communities. Meet Dr. Olschewski, who is one such individual.
Dr. Christene Olschewski (pronounced ol-chef-ski) always knew she wanted to be a veterinarian. At just 14, she began her career as a kennel technician, then later worked as a vet tech, receptionist, and in hospital management during her undergraduate studies.
After obtaining her Doctorate of Veterinary Medicine from Washington State University, she continued to develop her love for her profession and a great respect for the human-animal connection that exists between people and their pets. She now practices at Holladay Veterinary Hospital in Salt Lake City, Utah. Her professional interests include preventative medicine, internal medicine, dermatology, behavior, general surgery, dentistry, quality of life, and end-of-life care.
When she's not at Holladay Veterinary Hospital, Dr. Olschewksi enjoys the outdoors, and spends "as much time as possible" hiking, cycling, rock climbing, camping, snowshoeing, and gardening. She also enjoys photography and experimenting in the kitchen. Read on for our Q&A with Dr. Olschewski.
What do you enjoy most about being a veterinarian?
Improving the lives of pets, watching them grow, and being a part of their lives as they age. Being able to build a relationship with the client, as well as the pet makes all the difference at the end of the day, as it brings a continued reassurance of why I became a veterinarian.
What makes you unique in your field?
I truly find passion in every aspect of the field from behavior to end-of-life care. Every aspect of medicine is important for providing well-rounded care. I greatly respect the human-animal connection that bonds people to their beloved pets.
Do you talk to your clients about pet insurance?
Yes, I believe in pet insurance and have seen it save lives and improve quality of life for all involved.
What does it mean to you to be nominated for this award?
I am honored and delighted that my "way of medicine" is coming across to owners. In order to help a pet, I have to go through the owner and meet their needs as well. There are many ways of treating each situation and illness. I will adapt as necessary to provide the care that I believe in.
What would you like to say to your clients and community who nominated and voted for you?
To my clients: Thank you for allowing me to care for your beloved pet. To the voters: Thank you, I feel blessed to have your votes. To Marissa [who nominated me]: Hazel is lucky to have found an owner that is so dedicated to her well-being.
If you win the contest with the most votes, how do you plan to use your $1,000 prize?
I am unsure; I would want to make a collaborative decision with my amazing staff.
Fun Pet Fact:
Dr. Olschewski has always shared her home with rescued pets. Currently, she has two 10-plus-year-old rescued cats, Cricket and Sassy, as well as a 45+ year old rescued red ear slider turtle named Speedy. She is looking to expand her pet family, and would like to adopt a rescued greyhound as the next addition.  "Throughout the years, all of my pets have had various illnesses and issues," she says. "Although it is challenging in a different way to treat your own pet's medical problems, I am grateful that they all have taught me something about practical medicine and quality of life for pets and their owners."
If you enjoyed reading about Dr. Olschewski, stay tuned to our blog, where we will share in-depth Q&A sessions we held with the remaining finalists. Learn more about the My Vet's the Best Contest by clicking here. You may vote for Dr. Olschewski or any of the other finalists once a day through Thursday, May 19th, 2016 on the Pets Best Facebook page.