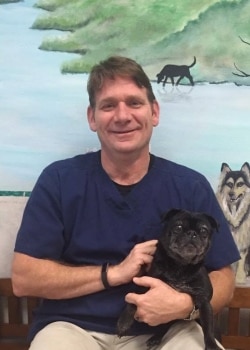 Do you know a veterinarian who has made a powerful impact on your fur family? In 2010, Pets Best developed the first-of-its-kind My Vet's the Best Contest — with the purpose of allowing pet owners around the nation to acknowledge these professionals for their outstanding service and compassionate care. Yet again, we've received hundreds of submissions for our final contest of 2016, and are pleased to announce the finalists. The stories that follow are a testament to the many ways veterinarians are making a difference, both in their local communities and beyond. Meet Dr. Bob Bruno, our eighth finalist.
After working for a zoo for three years, then a brief stint working with exotic animals in the circus, Dr. Bruno decided he wanted to work with animals for a living. He enrolled in veterinary school, and graduated from Ross University School of Veterinary Medicine in 1988, after which he worked for a small Ft. Lauderdale animal hospital for eight years. After moving to the west coast with his wife, Kay (also a veterinarian), they began working together at Moreland Veterinary Hospital in Portland, Oregon.
In his spare time, Dr. Bruno enjoys hiking, skiing, spending time with his two-legged and four-legged family, and traveling when he's able to get away. Read on for our Q&A with Dr. Bruno.
Why did you decide to become a veterinarian?
I've always had a great love for animals and got a degree in zoology. I was planning to enroll in graduate school for Marine Biology. A summer job landed in a zoo and I spent the next three years there. That experience led me to decide to expand my knowledge more into the medical field.
What do you enjoy most about being a veterinarian?
When the animals pull their owners into the office it's always a joy. You can never have such a bad day that an excited and happy pet can't make you feel better.
What makes you unique in your field?
I don't look at myself as unique. I look at pets as family and try to do everything within my means to help them out.
Do you talk to your clients about pet insurance?
I do. I feel pet insurance is fantastic especially in an emergency or in cases of surgery. It can make the difference between treatment or euthanasia in many cases.
What does it mean to you to be nominated for this award?
The fact that someone would go through the effort to nominate me makes it an honor. I don't think of myself as someone special and it's wonderful to think that some people think I am.
What would you like to say to your clients and community who nominated and voted for you?
I would thank them for all that they do for their pets and allow me to be a part of that.
If you win the contest with the most votes, how do you plan to use your $1,000 prize?
We always have clients with need and we work with Pacific Pug Rescue so we would divide it among them.
Fun Pet Fact:
Dr. Bruno's pet family includes three dogs: a pug, a two-year-old rescued mutt, and a newly adopted nine-week-old Labrador; a housecat, three clinic cats, a parrot, a tortoise, a turtle, and an iguana.
If you enjoyed reading about Dr. Bruno, continue to visit our blog, where we will share in-depth Q&A sessions held with the remaining finalists. Learn more about the My Vet's the Best Contest by clicking here. You may vote for Dr. Bruno or any of the other finalists once a day through Thursday, November 17th, 2016 on the Pets Best Facebook page.