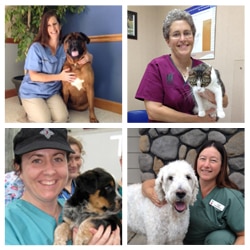 Pets Best and NAVTA announce results of Why I Love Being a Vet Tech contest
Pets Best Insurance Services, LLC, a leading U.S. pet insurance agency based in Boise, Idaho, announced today the results of the agency's first annual Why I Love Being a Vet Tech contest. The nationwide contest, developed by Pets Best and the National Association of Veterinary Technicians in America (NAVTA), honors veterinary technicians for their outstanding service and devotion to their profession.
Finalists entered the contest by submitting their own stories highlighting why they decided to become vet techs, why they're passionate about their profession and what they love most about going to work each day. The contest brought in 6,322 votes cast by pet owners, veterinary staff, community members, friends and family of the eight finalists from across the U.S. through the Pets Best website, www.petsbest.com, and the company's Facebook page.
"Veterinary technicians provide valuable veterinary care for animals across the nation, and the interest this contest generated reflects pet owners' widespread appreciation for all of their efforts," said Dr. Jack Stephens, founder and director of Pets Best. "Pets Best enjoyed reading the inspiring stories of committed veterinary technicians, and we look forward to hearing many more for years to come."
Of the 128 contest submissions, eight outstanding entries were chosen by a Pets Best panel of fellow veterinary technicians to represent the industry in this nationwide contest. The eight finalists were all awarded $200 Visa gift cards and a one-year NAVTA membership. The eight finalists were:
Beckie Mossor of Paws & Claws Animal Hospital in Wilmington, North Carolina
Elizabeth Salan of the Bel-Rea Institute of Animal Technology in Denver, Colorado
Deanna Goley of Dandy Acres Veterinary Clinic in South Lyon, Michigan
Paige Sanders of Animal Care West Veterinary Hospital in West Haven, Utah
Janey Kramlik of Brandywine Zoo in Wilmington, Delaware
Laurie Flood of West Hills Animal Hospital in Corvallis, Oregon
Kim McCrone of Johnson Ranch Animal Clinic in San Tan Valley, Arizona
Judy Voegel of St. Joe Veterinary Hospital in Evansville, Indiana.
"Animals are truly my passion, and I couldn't think of any other career path that would have been so perfect for me," said finalist Kim McCrone. "I am honored and thankful for being a part of this contest."
The winner of the Why I Love Being a Vet Tech contest was Beckie Mossor. In addition to the $200 gift card and NAVTA membership awarded to all finalists, Mossor will receive a paid trip to the 2015 North American Veterinary Community Conference in Orlando, Florida.
"Veterinary technicians play a significant role in the health of people's beloved animals. To make a difference in this industry, they must demonstrate a steadfast dedication to providing the highest quality of care for every pet they treat," said Julie Legred, certified veterinary technician and NAVTA executive director. "It is highly rewarding to participate in contests such as this one that help raise awareness of the impact veterinary technicians have on the lives of so many people and their pets."
NAVTA, founded in 1981, serves as a nationwide organization of veterinary technicians, veterinary technologists and veterinarians, in addition to veterinary assistants, educators and students. The organization was created as a resource for veterinary professionals to provide input on national issues related to their field. The organization is also dedicated to promoting veterinary professions and fostering high standards of care.
For more information about the Why I Love Being a Vet Tech contest, visit www.petsbest.com/blog/vet-tech-contest/.
About Pets Best Insurance Services, LLC
Dr. Jack L. Stephens, founder and director of Pets Best, founded pet insurance in the U.S. in 1981 with a mission to end euthanasia when pet owners couldn't afford veterinary treatment. Dr. Stephens went on to present the first U.S. pet insurance policy to famous television dog Lassie. Pets Best provides coverage for dogs and cats. Dr. Stephens leads the Pets Best team with his passion for quality pet care and his expert veterinary knowledge. He is always available to answer questions regarding veterinary medicine, pet health and pet insurance. The Pets Best team is a group of pet lovers who strive to deliver quality customer service and value. Visit www.petsbest.com for more information.
Pet insurance coverage offered and administered by Pets Best Insurance Services, LLC is underwritten by Independence American Insurance Company, a Delaware insurance company. Independence American Insurance Company is a member of The IHC Group, an organization of insurance carriers and marketing and administrative affiliates that has been providing life, health, disability, medical stop-loss and specialty insurance solutions to groups and individuals for over 30 years. For information on The IHC Group, visit: www.ihcgroup.com. Additional insurance services administered by Pets Best Insurance Services, LLC are underwritten by Prime Insurance Company. Some existing business is underwritten by Aetna Insurance Company of Connecticut. Each insurer has sole financial responsibility for its own products.
Pets Best is a proud member of the North America Pet Health Insurance Association (NAPHIA).
###