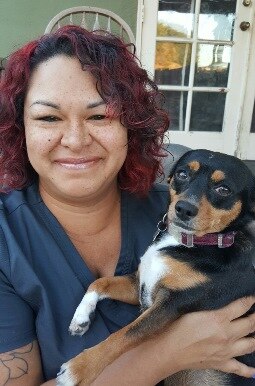 At Pets Best, we recognize that the veterinary industry is largely powered by the hardworking and dedicated certified veterinary technicians across the nation. To acknowledge their tireless efforts, we created the Why I Love Being a Vet Tech contest, now in its second year. In partnership with the National Association of Veterinary Technicians in America (NAVTA), we are pleased to announce the top eight finalists for 2015.
Meet Regina Sanger, an oncology tech for 15 years. Regina works at PETS Referral Center in Berkeley, California.
Regina enjoys spending time with her husband and two daughters, whether it's home watching movies or exploring the beach. She can also be found reading in the company of one or more of her eight pets, whom she affectionately calls her "favorite cuddle buddies."
Regina's pets include four cats: Freckles and Sabrina, both 16-year-old cats adopted from San Francisco Animal Control; and Trouble and Gizmo, two 8-year-old tabbies, each rescues adopted from Regina's clinic. Her four dogs are: Tasha, an 8-year-old boxer mix abandoned by her owners after she tested positive for parvovirus; Frankie, the lovable 6-year-old blue nose pitbull brought to the hospital at six weeks old emaciated and with a bite wound to the head; Roxann, a rescued 4-year-old pitbull mix with the tip of her left ear cut off and a tail broken in three places; and the family's latest addition, Toni the Chiweenie, born after her pregnant mother was rescued by Regina's manager.
Read on to learn more about Regina and her contribution to the veterinary community.
Why did you choose to become a vet tech?
I had been a medical assistant for one year—and I loved being in the medical field—but it just didn't feel right. One day I saw a commercial on TV about a veterinary technician program and I had always wanted to work with animals. I found a job as a tech assistant in a small general practice and after a few days I knew this was what I wanted to do. Two weeks later I began tech school.
If you could improve upon or change one thing about the veterinary industry, what would that be?
Client education—I wish we could do more for our clients; more community outreach to help educate clients about pet insurance and warning signs of illnesses. I'm lucky to live in an area where there are plenty of sources for clients to look for help.
Do you see the value of pet insurance for your clients?
Absolutely, some of our oncology clients would not be able to afford chemotherapy if it wasn't for the insurance. I've seen plenty of clients that sit in our rooms and cry because they can't afford treatment. Also, clients that come through ER after horrible accidents have to put their animals to sleep because they can't afford treatment. I know that clients have to pay out of pocket initially—then are reimbursed by the insurance company—but I think knowing that helps make that decision easier.
Tell us why you enjoy being a vet tech.
The relationships that I build with patients and clients are precious to me. Our clients come to us at a very vulnerable time in their lives and they place their trust in us to be patient and kind with their beloved pets; whether it be a cat or dog, it is a family member to them. This bond that we build with them is something I truly cherish. One of our beloved patients was brought in for euthanasia and she walked upstairs to our oncology room and would not leave. This is where she felt safe and loved and when I heard this it brought tears to me eyes. I think we as vet techs provide a great service, we are advocates for our patients. I have been a vet tech for 15 years and I will continue for another 15 years, if possible. There is nothing else in this world I would rather do than help animals in their time of need.
We invite you to stay tuned to our blog, where we will be sharing the in-depth Q&A sessions we held with the contest's remaining finalists. To learn more about the Why I Love Being a Vet Tech Contest, click here. The contest winner will receive a one-year NAVTA membership and a paid trip to the 2016 North American Veterinary Community Conference. You may vote here for Regina or any of the other finalists once a day through Thursday, September 17th.