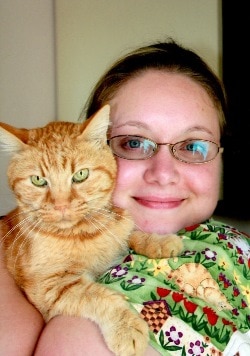 At Pets Best, we recognize that the veterinary industry is largely powered by the hard working and dedicated certified veterinary technicians across the nation. To acknowledge their tireless efforts, we created the Why I Love Being a Vet Tech contest, now in its second year. In partnership with the National Association of Veterinary Technicians in America (NAVTA), we are pleased to announce the top eight finalists for 2015.
Meet Kerri Gibilisco, a vet tech for 18 years. Kerri works at The Pet Clinic in Omaha, Nebraska, where she implemented a behavior program at the clinic that utilizes environmental enrichment for the hospitalized patient and low stress handling and restraint. Thanks to this program, patients at the clinic can feel more at ease and relaxed with spa-like cages, radios, and TV.
In her spare time, Kerri enjoys gardening, canning and pickling, reading and writing, camping, and clicker training with her cats: Nigel, AKA "Pork Chop," a shorthaired male from the Humane Society which suffers from hypertrophic cardiomyopathy; Theodore Owen, a three-year-old mackerel-print male born with a flattened chest due to his mom sitting on him; and Stanley, a rescued male shorthair with idiopathic cystitis.
Read on to learn more about Kerri and her contribution to the veterinary community.
Why did you choose to become a vet tech?
My love and passion for animals. I always wanted to be a vet but when I learned about vet techs I knew it was exactly what I wanted to do. There is more one-on-one involvement with the patient.
If you could improve upon or change one thing about the veterinary industry, what would that be?
The change I would make involves the emotional well-being of the patient. Veterinary medicine has come a long way but we are still behind in the behavior aspect of veterinary medicine and utilizing new, less stressful methods and helping clients and patients with behavior problems which can drastically decrease the relinquishment of pets as well as euthanasias.
Does your clinic/hospital talk to clients about pet insurance? And do you see the value of such coverage?
Yes, but [I] find it difficult to get clients to see the benefits over the cost.
Tell us why you enjoy being a vet tech.
Some think the best part of being a vet tech is the holding of kittens and puppies. True! Those can be some of the best days, especially on days when you really need that emotional pick-me-up. But the best part about being a vet tech is being able to better the quality of patients' lives and clients' worries by providing an enriched environment where not only the physical health of the patient is the most important but the emotional well being also.
We use low stress handling for all our procedures which in turn helps the client feel better about bringing their pet here. After being in the profession for 18 years this has become the best part for me about being a vet tech—being able to help and heal the emotional aspects of patient and clients' lives.
We invite you to stay tuned to our blog, where we will be sharing the in-depth Q&A sessions we held with the contest's remaining finalists. To learn more about the Why I Love Being a Vet Tech Contest, click here. The contest winner will receive a one-year NAVTA membership and a paid trip to the 2016 North American Veterinary Community Conference. You may vote here for Kerri or any of the other finalists once a day through Thursday, September 17th.