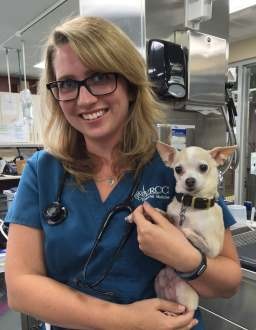 At Pets Best, we recognize that the veterinary industry is largely powered by the hardworking and dedicated certified veterinary technicians across the nation. To acknowledge their tireless efforts, we created the Why I Love Being a Vet Tech contest, now in its second year. In partnership with the National Association of Veterinary Technicians in America (NAVTA), we are pleased to announce the top eight finalists for 2015.
Meet Kari Walker. As a teenager, she began helping at the clinic where her mother worked as a veterinarian. It was here that she gained valuable experience and learned more about veterinary medicine—which paved the way for her eventual career path. Kari has now officially been a vet tech for four years, and works in the Internal Medicine Department at the Veterinary Referral Center of Colorado.
Kari owns five rescued pets. Her three cats are Sebastian, the first cat she adopted as an adult; Smooch, a cat relinquished to a clinic due to a broken jaw; and Indi, a three-week-old kitten also brought to her clinic. Kari's two dogs are Coraline, a "spunky mixed breed" brought to her hospital with a heart defect; and Lola, a dog show champion who originally belonged to Kari's late mother.
In her spare time, Kari enjoys playing tennis, stand-up paddleboarding, kayaking, and hiking with her husband, and she also likes to knit.
Read on to learn more about Kari and her contribution to the veterinary community.
Why did you choose to become a vet tech?
I started working in my mother's clinic when I was 14 and slowly started gaining more responsibility and learning more about the medicine. However, I had other career aspirations to be a psychologist. While in college I was working at the university veterinary hospital and realized that I would much rather be behind the scenes contributing to the healing process than a psychologist. I changed schools in order to pursue a career as a veterinary technician.
If you could improve upon or change one thing about the veterinary industry, what would that be?
I would improve upon our clients' recognition of the amount of work, dedication, and love we put toward their pets. Most people don't realize that veterinary technicians have a lot of knowledge and skill and that we dedicate a lot of time to improve ourselves in order to provide the best possible care.
Do you see the value of pet insurance for your clients, and does your clinic talk to clients about such coverage?
Absolutely! We have information available to our clients and answer questions when they come up.
Tell us why you enjoy being a vet tech.
Growing up with a veterinarian as a mother, I have spent a lot of time in the field. Working alongside her, she instilled in me a passion for veterinary medicine. I chose to become a veterinary technician because I love the nursing aspect. While veterinarians have the advanced knowledge and surgical skill, I have cultivated skills to be an excellent venipuncturist, anesthetist, physical therapist, counselor, and much more. I am advancing my knowledge and skills on a daily basis and pursuing the internal medicine speciality to bring better care to my patients and to teach new technicians the skills and knowledge I have obtained. The passion, though—they have to bring that on their own.
The passion that I have for being an excellent veterinary technician and for constantly learning in this field is something that I am very proud of. Clients can see that passion and I enjoy educating them on their pets' diseases and their needs for home care. I also believe it is contagious to my co-workers and spurs them to be their better selves. In the end, I love being a technician because I am passionate about my patients' well-being, advancing the skills and knowledge required of me, educating clients, and being a technician that my own mother would be proud to work with. She passed away the day before I graduated tech school, and I strive to make her proud every day.
We invite you to stay tuned to our blog, where we will be sharing the in-depth Q&A sessions we held with the contest's remaining finalists. To learn more about the Why I Love Being a Vet Tech Contest, click here. The contest winner will receive a one-year NAVTA membership and a paid trip to the 2016 North American Veterinary Community Conference. You may vote here for Kari or any of the other finalists once a day through Thursday, September 17th.