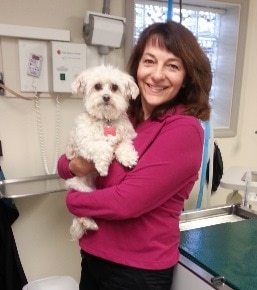 At Pets Best, we recognize that the veterinary industry is largely powered by the hardworking and dedicated certified veterinary technicians across the nation. To acknowledge their tireless efforts, we created the Why I Love Being a Vet Tech contest, now in its second year. In partnership with the National Association of Veterinary Technicians in America (NAVTA), we are pleased to announce the top eight finalists for 2015.
Meet Deanna Herfel, a registered veterinary technician (RVT) since 1999. She began working at the San Diego Wild Animal Park (now the San Diego Zoo's Safari Park) in 1984. Deanna now works at the Suburban Animal Clinic in Columbus, Ohio.
Deanna recently added a cat to family after her husband's parents were unable to care for the animal in the assisted living environment. She also owns a mixed breed named Willy, rescued after he was mauled. Deanna enjoys spending free time with her family—"both human and furry," she adds. She and her grown children also like to go wine tasting, and she has also developed an interest in paddle boarding.
Read on to learn more about Deanna and her contribution to the veterinary community.
Why did you choose to become a vet tech?
My family always had lots of animals. It shows my age, but we actually had two alligators! (They were living post cards, believe it or not.) I started my animal experience in a zoo setting, but after my husband's transfer made me leave California [and the San Diego Animal Park] and move back to Ohio, I tried working at the local zoo, but it just wasn't the same. So I went back to school for my RVT degree so I could continue working with animals.
If you could improve upon or change one thing about the veterinary industry, what would that be?
The pay. As an RVT, I can be a radiologist, anesthesiologist, dental hygienist, grief counselor, client educator—all before lunch. Our human counterparts usually deal with one of these and make lot more!
Do you see the value of pet insurance for your clients, and does your clinic talk to clients about such coverage?
YES! Because of the help from pet insurance, we have clients who were able to have their pets longer. [Pet insurance information] is in all of our New Client and Puppy/Kitten packets, plus we have brochures all over the clinic.
Tell us why you enjoy being a vet tech.
It's the best job ever. You get to heal pets and help educate the people, so the bond is unbreakable. I love seeing the puppies and kittens grow up to be part of the family. I've been around long enough to have to help those families deal with their loss, too. Although that is a hard part, I truly feel that I make a difference. In our job we all wear many hats. I haven't met a tech yet that is in it for the money (ha ha). Every day is another day of helping pets live to their potential. Every day there is an opportunity to educate owners—not just on preventative medicine but on behavior education, nutrition education, etc. Again, it's one career with so may hats to wear, how could anyone get bored? I love being a technician!
We invite you to stay tuned to our blog, where we will be sharing the in-depth Q&A sessions we held with the contest's remaining finalists. To learn more about the Why I Love Being a Vet Tech Contest, click here. The contest winner will receive a one-year NAVTA membership and a paid trip to the 2016 North American Veterinary Community Conference. You may vote here for Deanna or any of the other finalists once a day through Thursday, September 17th.